Egyptians protest in Cairo despite promised concessions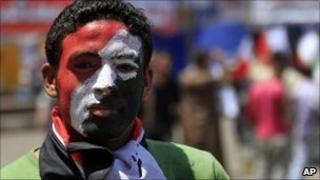 Thousands of Egyptians have protested in Cairo to demand faster political reform, despite warnings and fresh concessions from Egyptian officials.
The protesters dismissed the offer from Prime Minister Essam Sharaf on Monday to reshuffle his cabinet this week.
After calls for a million-man march on the cabinet office today, the interim military rulers warned protesters against "harming public interests".
The march was called off, but thousands held an evening rally in Tahrir Square.
It is the fifth day of a sit-in in the central Cairo square - the heart of Egypt's uprising that toppled former President Hosni Mubarak in February.
Tens of thousands of people demonstrated there last Friday, calling for faster reform and for corrupt Mubarak-era officials to be brought to justice some four months after his ousting.
Protests have also been held in the coastal cities of Alexandria and Suez.
Minor clashes
In the strongest response so far by the Egyptian military to the growing signs of dissatisfaction, the spokesman for the military authorities, Mohsen El-Fangary, issued a warning those who "deviate from the peaceful approach during demonstrations and sit-ins and obstruct the institutions of the state".
Although the protests have been peaceful, six people were injured on Tuesday by a small group of men armed with knives and sticks who stormed the protest camp. They were forced out of the square by the protesters.
In other developments on Tuesday:
Egypt's deputy prime minister, Yahya al-Gamal, resigned. He had been widely criticised for his apparently conciliatory approach towards businessmen backed by Mr Mubarak's regime.
An Egyptian court sentenced former Prime Minister Ahmed Nazif to a one-year suspended jail term for corruption. Former Interior Minister Habib al-Adly was given five years and former Finance Minister Youssef Boutros-Ghali was sentenced in absentia to 10 years also on corruption charges. Both Adly and Boutros-Ghali have received jail sentences in earlier cases.
The judiciary council recommended that the trials of Mubarak-era officials should be relayed onto TV public screens and moved to larger venues.
With activists showing no signs of backing down, the situation is building to a new confrontation between the protesters and the military, says the BBC's Jon Leyne in Cairo, adding that Prime Minister Sharaf is struggling to maintain control.
Mr Sharaf is under growing pressure from protesters to purge the police, civil service and the judiciary of remnants of the Mubarak regime and to speed up trials of those accused of corruption or the use of deadly force against protesters. Nearly 900 people were killed in the 18-day uprising.
Also for the first time, the military conceded that elections due to take place in September might be postponed, our correspondent says. The military issued a statement saying that only election procedures would begin in September, without explaining further.