Egypt suspends police accused of protester deaths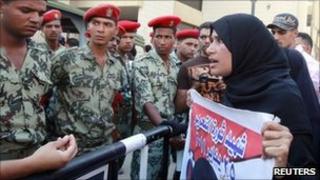 Egypt's prime minister has ordered the suspension of police accused of killing protesters during the uprising that toppled President Hosni Mubarak.
Essam Sharaf also said a panel would be created to speed up court cases against them and those accused of corruption.
The 18-day uprising in January and February left 846 people dead.
Mr Sharaf was speaking as thousands of people gathered in Cairo's Tahrir Square demanding the military rulers bring those responsible to justice.
They also want faster political reform, a purge of the remnants of Mr Mubarak's regime and an end to the military trials of civilians.
So far, only one policeman has been convicted in more than a dozen court cases over the crackdown on protesters. He was tried in absentia.
Earlier this week, seven other policemen accused of killing demonstrators were released on bail, while a Cairo court acquitted three ministers from the regime who had been charged with squandering public funds.
'Mechanism for dialogue'
In a televised address on Saturday, Mr Sharaf said he had agreed to the first demand and "issued direct orders to the interior minister to stop all police officers accused of killing protesters from working".
He also said he had "ordered the creation of a panel to review the trials [of those charged with] killing protesters and corruption as soon as possible", without waiting until after the summer judicial recess.
"The public prosecutor will appeal all rulings acquitting people in those cases," the prime minister added.
A "mechanism for dialogue with all the political forces" will also be formed.
State media later cited prosecutors in Alexandria as saying that they had ordered the detention and questioning of three police officers in the case of a man whose relatives say he was tortured to death in custody.
Mohamed Sayyid Bilal was arrested in January after 23 people were killed in the bombing of a Coptic church in the Mediterranean city. Subsequent investigations reportedly showed he had no link to the attack.
Earlier, thousands of Egyptians demonstrated across the country for a second day to show their frustration at the slow pace of change.
Correspondents say that on Friday, Tahrir Square looked and sounded like it did during the overthrow of Mr Mubarak, seething with discontent and defiance. There were also protests in Alexandria and Suez.
The Muslim Brotherhood is backing the renewed demonstrations, having refrained from joining weekly protests for more than a month.