Israel blocks pro-Palestinian 'flytilla' activists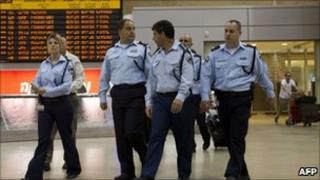 Palestinian groups have criticised Israel after activists planning to visit the West Bank were barred from flying and others were deported.
Israeli officials said airlines blocked some 200 blacklisted travellers from flying to Tel Aviv.
The Welcome to Palestine group says the action shows restrictions on access to Palestinian areas.
The so-called "flytilla" comes after Greece blocked an aid flotilla trying to break the Israeli blockade of Gaza.
Two American women originally involved in the flotilla were among the first to be deported from Ben Gurion Airport after flying in from Athens to try to join the latest protest.
A group from Switzerland was also expected to be expelled.
Airlines with flights from France, Germany and Switzerland prevented ticket-holders from boarding planes after being notified by Israel that they would be refused entry.
Many passengers turned away decried what they said was an abuse of power. Israel argues it is ensuring public order at its main gateway to the world.
Palestinian civil society organisations who make up Welcome to Palestine expected 600 to 1,000 foreign activists to take up their invitation to head to the West Bank for a week
They say they have planned a full itinerary of peaceful activities, starting with events in Bethlehem and Ramallah on Saturday for those able to make it there.
Activists were urged to inform Israeli immigration of their intention to visit only Palestinian areas on arrival at Ben Gurion airport knowing that this could see their entry blocked.
Palestinians have no airport of their own and Israel controls the borders of the occupied West Bank.
Security alert
Ben Gurion airport increased security in recent days with hundreds of extra police officers deployed to prevent any demonstrations from taking place.
Several left-wing Israelis who tried to raise signs saying "Welcome to Palestine" were quickly arrested on Friday.
Israeli Prime Minister Benjamin Netanyahu had ordered authorities to "act with determination, while trying to avoid unnecessary friction" with anyone taking part in a provocation, a statement from his office said.
At a news conference in Bethlehem, Welcome to Palestine representatives said that legal action would be taken to challenge Israel's response.
"People coming to Palestine have the right to state their destination and they have the right to access unless they really pose a security threat to Israel," said Sami Awad, director of the Holy Land Trust.
"International solidarity is growing around this. We want to expose once and for all the injustice done by the Israeli government to the Palestinians and those who support us."
Boat blocked
Earlier, the Greek coast guard intercepted the only remaining boat from a 10-ship aid convoy that has been trying to sail to Gaza since the end of June.
The French boat - Dignite al-Karama - was detained on Thursday for "administrative reasons" on a refuelling stop in Crete, organisers said.
Israeli officials have dismissed as "ridiculous" claims by the organisers that Israel sabotaged two ships - one Irish and one Swedish - and pressured the Greek authorities to block the sailings of the French yacht, as well as US and Canadian vessels.
The Quartet of Middle East peace mediators - the UN, US, EU and Russia - has urged activists to avoid a potential confrontation with Israel, pointing to last year's deadly clashes on the Freedom Flotilla that left nine activists dead.
Israel increased sanctions on Gaza in 2006 after militants captured Israeli soldier Gilad Shalit. It tightened them further still a year later when Hamas ousted rival Palestinian organisation Fatah from the territory.
Although the Islamist group won Palestinian legislative elections in January 2006, it refuses to recognise Israel or to renounce violence and is designated in the West as a terror organisation.
Israel eased the restrictions last year in response to international pressure following the activists' deaths.