Yemen President Ali Abdullah Saleh appears on TV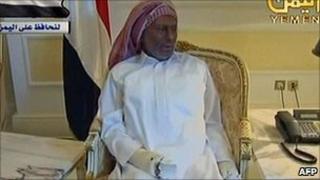 Yemeni President Ali Abdullah Saleh has appeared on TV for the first time since being badly burned in an attack on his palace last month.
He did not move his arms, and both his hands were bandaged.
Mr Saleh has been undergoing treatment in Saudi Arabia since 6 June following the attack, which officials said was caused by a bomb.
Yemen has been rocked by months of unrest, with protesters calling for Mr Saleh's resignation.
He has refused to step down and has resisted several attempts at mediated solutions.
'Successful operations'
In Thursday's address aired on Yemen's state TV, the president said that dialogue was needed to resolve Yemen's problems.
He said he welcomed power-sharing, but stressed that it should be "within the framework of the constitution and in the framework of the law".
Referring to his injuries sustained during the attack on his compound in Sanaa in June, Mr Saleh admitted that he had undergone "more than eight successful operations".
"I had burns because of the accident. There were also a number of operations for a number of officials such as the speaker of parliament, the prime minister, his deputy, and the governor of Sanaa. More than 87 people were injured."
Mr Saleh is still recovering in Saudi Arabia, amid speculation in Yemen that he might soon return to the country.
Seven people were killed in the incident, while Prime Minister Ali Mohammed Mujawar and at least two other senior officials were also seriously injured.
Western diplomats have been helping the Yemeni authorities to investigate the attack and have confirmed that a large quantity of the high explosive TNT had been placed inside the mosque where President Saleh attended Friday prayers.
Mr Saleh has ruled Yemen since 1978. His departure followed weeks of unrest which has left more than 350 people dead.
Fighting has been particularly fierce in the southern province of Abyan, where militants have exploited the political vacuum to move into the towns of Zinjibar and Jaar.
Opposition groups accuse the Sanaa government of playing up the jihadist threat in an attempt to shore up Western support.
Mr Saleh has refused to sign a Gulf-mediated transition plan that would see him step down from power in return for immunity from prosecution over the deaths of protesters in the five-month uprising.