Palestinians play first World Cup qualifier at home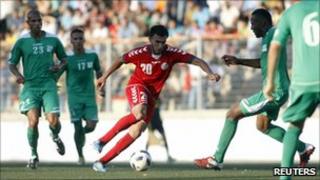 "Palestine, Palestine" was the rhythmic chant that rang on a warm evening in Ramallah as the Palestinian National team went through into the next round of World Cup qualification after a 1-1 draw with Afghanistan.
The match was the first World Cup game ever to be played at home in the Palestinian territories.
Up to 8,000 Palestinian supporters were in full voice as they watched the contest between two much troubled peoples.
The game was the second leg of a two-match tie.
Palestine won the first leg earlier this week 2-0, meaning they go through 3-1 on aggregate.
That game had to be played in Tajikistan, which neighbours Afghanistan, because of security concerns in the Afghan capital Kabul.
Palestinians can relate to such problems.
In the past, Palestine's home games have had to be played in Jordan because the West Bank was not deemed safe enough by Fifa.
'A message'
"Palestinian blood, Palestinian flesh, the Palestinian national anthem on Palestinian territory. It's good. It makes me feel proud," said Jibril Rajoub, president of the Palestinian football federation.
"It sends a message to the outside world that we are here, that we exist," said Luai, one fan surrounded by a sea of Palestinian flags.
Palestine are ranked 167th in the Fifa world rankings. Afghanistan were an even match for them, ranked 166th.
In the past it has been difficult for some Palestinian players living in Gaza to play because they have often been refused Israeli permission to travel for what Israel sees as security reasons.
But for this match almost all the team were available to play.
One of the Palestinian players had never set foot in the West Bank until this weekend.
Six foot five, and sporting a blond Mohican haircut, Omar Jarun is Palestinian American. He was spotted by Palestinian talent scouts while playing in his home town of Peachtree City in the US state of Georgia.
Palestinian politicians have heralded this first World Cup match being played on home soil as a sign of how much security has improved in the West Bank under the Palestinian Authority.
The Palestinian Prime Minister Salam Fayyad was among the crowd.
Mr Fayyad sees the national team as another Palestinian institution and a step, albeit a small one, towards Palestinian statehood.
Barcelona fans
The match was played in the Faisal al-Husseini stadium, only a matter of metres from the thick concrete wall that makes up Israel's separation barrier in this part of the occupied West Bank.
Earlier this year the Palestinian team played a qualifying match for the 2012 Olympics against Thailand, the first competitive match played at home.
Like most places in the world, Palestinians love football. Spanish football is especially popular with the bars and cafes of Ramallah packed out every time Barcelona or Real Madrid play.
Barcelona are by far the most popular team here and the stadium was dotted with the shirts of the Spanish champions.
One fan here told me that Palestinians and Catalans share the same spirit of resistance against a greater power.
"We don't play ticker-tacker football like Barcelona," says Palestine and Barcelona fan Amer Abu Hannoun. "But neither do England and you have Rooney, Gerrard and Lampard," he laughs.
But the road to Brazil 2014 is long.
This match was the very start of the qualification process for the Asian federation. Palestine will now go on to play Thailand over two legs.
If they get through that there are then several group stages to get through before Brazil becomes a reality.