Bahrain: Sunni leaders begin talks with Shia groups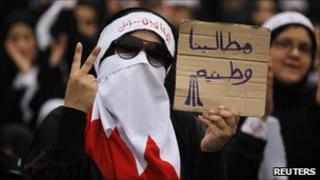 Talks between Bahrain's Sunni-led government and the majority Shia opposition are under way.
King Hamad Bin Issa Al Khalifa has said all options are on the table for the meeting, which is being attended by al-Wifaq, the main Shia opposition bloc.
The discussions follow months of anti-government protests that have killed more than 30 people. Hundreds of opposition supporters remain in prison.
One accused doctor has given the BBC an account of abuse he says he suffered.
The opening of today's meeting was broadcast on state television.
Parliamentary speaker Khalifa Dhahrani said the dialogue would have "no preconditions and no ceiling" on the demands that could be raised by delegates.
The aim was to draw up "common principles for the relaunch of the political reform process," he said.
Opposition delegates from al-Wifaq have promised not to pull their punches at the talks.
"Al-Wifaq will not abandon the demands of the people, which are; an elected government, a fair electoral law and an elected parliament with full powers," said al-Wifaq leader Sheikh Ali Salman, in an address to supporters on Friday.
Complained of discrimination
The talks have been strongly backed by the US, which has its 5th Fleet based in Bahrain.
Ahead of the talks, the king announced an investigation into the handling of the unrest by the security forces.
Most of the Saudi troops who were sent to Bahrain to support the government as it imposed emergency law are also being withdrawn.
Bahrain's majority Shia community has long complained of discrimination.
Inspired by the popular uprisings in Tunisia and Egypt earlier this year, thousands took to the streets to demand fairer political representation.
In February, security forces opened fired on demonstrations at Pearl Roundabout in the capital, Manama. Then in March, King Hamad called in troops from neighbouring Sunni Gulf states to crush the protesters.
'A brighter future'
Al-Wifaq, whose members of parliament resigned in protest at the crackdown, accepted the king's invitation of national dialogue to allow the country to "write a new chapter in our history".
"We need to ensure this dialogue quickly offers real political situations to create stability. Otherwise the situation will explode again," said al-Wifaq spokesman Khalil al-Marzouq.
Government spokesman Issa Abdul Rahman said it was an opportunity for reform and easing Sunni and Shia divisions that threaten the country.
"This is about bringing together all elements of Bahraini society to heal this nation so that it can move forward to a brighter future," he told Reuters.
But the government has not relented on demands to free all detainees and clear other convicted of protest-related charges, including eight Shia opposition leaders sentenced to life in prison last month.
Critics also note that only 35 of the 300 seats on the dialogue meeting have been allocated to the opposition, and that anything agreed there could be overturned by the appointed upper house of parliament, the Shura Council.
The BBC's Rupert Wingfield-Hayes, who was recently in Bahrain, says there is a real contradiction in what is happening there. On the one hand, he says, there is supposed to be a political dialogue between the Sunni elite and Shia majority, while on the other trials of doctors and political dissidents are continuing - of 48 doctors originally arrested, 20 are still facing serious criminal charges.
One doctor, who spoke anonymously to BBC Radio 4's Today programme after being released on bail following three months of detention, said he had been subjected to psychological and physical abuse by security personnel.
He said he had been blindfolded, handcuffed, forced to stand for hours and was hit in the lower part of the back with rubber hose or cable.
The doctor said: "They said I had inflicted injuries on patients to make it look like the regime had been the one using force - it made me feel horrible, it was an appalling situation."
He said he was forced to confess in front of television cameras.
"I said all the time 'I don't deserve this'. All I have done is really, genuinely, been treating people and saving lives. I thought that I should be rewarded for saving so many lives, rather than being here being beaten and dehumanised, to confess that I have inflicted injuries... [or] to confess that we've killed a few of those who've died."
On Wednesday, the king blamed the unrest on "extremists", who he said had "hijacked the nation" and taken it into "chaos and extremism". Ministers had previously accused the protesters of having a sectarian agenda with backing from Iran.
But the protesters deny the charges, and the government has offered no evidence to back up their claims.