Three US soldiers killed in southern Iraq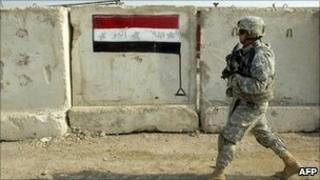 Three US soldiers were killed in action in southern Iraq on Wednesday, the military has said.
The deaths make June the deadliest month for American soldiers in the country in two years.
The US military said they died as the result of a "hostile event" but gave few further details.
However, one report said the three died when a rocket hit a US base near the Iranian border.
An unnamed US military official quoted by the Associated Press said that the type of weapon used bore the hallmarks of a Shia militia with strong links to Iran.
The independent icasualties count of US service member fatalities in Iraq now stands at 4,469.
US fatalities in Iraq have been rare since Washington officially ended combat operations in the country last August, leaving about 45,000 troops.
The role of the US army, which is due to pull out of Iraq on 31 December, is to advise and help the security forces.
But both US and Iraqi governments are now considering extending the deadline of troops leaving the country partly, analysts say, to counter Iran's influence.
There have been several attacks blamed on Shia militias aiming to force the military out.