Yemen: Battle near Zinjibar 'kills at least 21'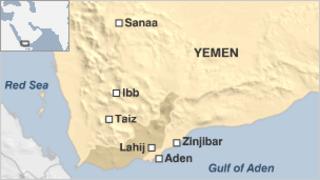 At least 21 people have died in heavy fighting near the rebel-held southern Yemeni city of Zinjibar, reports say.
Those killed include 15 soldiers and two rebels who died in fighting on the ground.
A government attack on a convoy of vehicles fleeing the fighting killed four people and wounded 12.
The country has been in turmoil since a popular uprising against President Ali Abdullah Saleh's rule began in mid-February.
The fighting near Zinjibar took place as government troops fought with rebels for control of a key stadium near the city.
Power vacuum
Militants were reported to have taken control of the stadium, used as a weapons store to supply troops trying to seize control of the city, AP reports.
A military attack targeting a convoy of vehicles taking shelter near the stadium - including a passenger bus - killed at least four civilians and injured 12, reports said.
One report said the attack had been an air strike carried out by the Yemen air force.
In a separate incident, a bomb killed a colonel when it exploded in his car on Tuesday night in the port city of Aden, an area where Islamist militants linked to al-Qaeda are active, Reuters reports.
At least 130 soldiers have been killed since the militants took control of most of the city of Zinjibar, the provincial capital of Abyan province, on 29 May.
Massive anti-regime protests have swept across Yemen since February and analysts say al-Qaeda is now exploiting a power vacuum left by the departure of President Ali Abdullah Saleh.
After ruling the country for nearly 33 years, Mr Saleh went to Saudi Arabia for treatment earlier this month after his compound in the capital, Sanaa, was attacked.