Bahrain king orders fact-finding probe into protests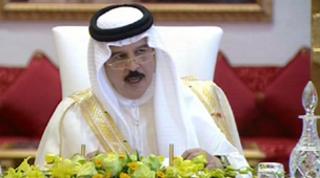 The king of Bahrain has announced an independent investigation into weeks of protest that rocked the Gulf island nation earlier this year.
The move by King Hamad bin Isa al-Khalifa comes ahead of a national dialogue, due to start on Saturday.
At least 31 people died when Bahrain's Sunni rulers put down pro-democracy protests led by the Shia majority.
Opposition groups have not said if they will participate in the talks while their leaders remain behind bars.
In a televised address on Wednesday, the king blamed the unrest on "extremists [who] hijack the nation and take it into chaos and extremism."
'New chapter'
He announced the formation of an independent fact-finding commission to look into the events of February and March, when security forces violently suppressed weeks of peaceful protests calling for democracy and freedom.
The commission is due to report on its findings on 30 October.
Although he did not name the commission members, King Hamad said they would be "eminent persons" who would operate "without any interference of any kind", according to translated remarks provided by the state news agency BNA.
He said he hoped that the upcoming national dialogue - due to begin this weekend - would allow Bahrain to "write a new chapter in our history... full of success and prosperity".
Opposition groups have so far demanded that the authorities free detained protesters and halt the trials of activists before dialogue begins.
Hundreds of people - including opposition leaders, human rights campaigners, doctors and nurses - have been arrested since the uprising.
At least four have died in police custody, and human rights groups have warned of abuse and torture in Bahrain's jails.
Dozens of detainees are being tried in military-style courts set up under emergency law, which was only lifted earlier this month. Eight have been sentenced to life in jail.
In February, Bahraini forces opened fired on peaceful protests and sit-ins in Pearl Roundabout in the capital Manama. Then in March, King Hamad called in troops from neighbouring Gulf states to crush the movement.
Bahrain's Shia Muslims - who make up 70% of the population - have long complained of systematic discrimination when it comes to housing, employment and education.
The authorities have previously accused the protesters of having a sectarian agenda with backing from Shia power Iran.
But the protesters deny the charges, and the government has offered no evidence to back up their claims.