Powerful explosion near UN office in Gaza City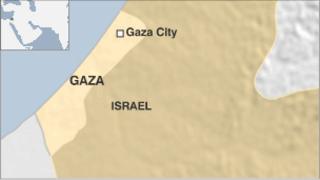 There has been a big explosion in Gaza City near a United Nations compound and Hamas offices.
The blast tore a 2m (6ft) hole through a wall surrounding the UN building.
A BBC reporter at the scene said the blast had been caused by an explosive device. There have been no reports of casualties.
No group has so far claimed responsibility for the explosion. Offices of Hamas' intelligence service and a prison are also nearby.
The Israeli military said it had not been operating in the area at the time.
Security forces in the Hamas-run Palestinian territory have cordoned off the area and denied access to journalists.