Egypt jails former trade minister Rachid in absentia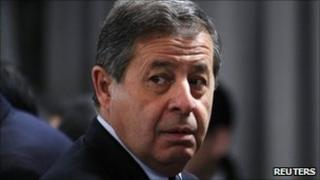 Egypt's former Trade Minister Rachid Mohamed Rachid has been sentenced to five years in prison in absentia for embezzling public funds.
Rachid, who fled Cairo after Egypt's uprising earlier this year, was also fined $1.6m (£1m).
A number of former top ministers who served under ousted President Hosni Mubarak are currently being detained on various charges.
Mr Mubarak was forced from power in February after 18 days of protests.
The former leader, who is in custody at a military hospital, is due to go on trial on 3 August, alongside his sons, Alaa and Gamal.
Earlier this month, a court sentenced former Egyptian finance minister Yussef Boutros Ghali to 30 years in prison in absentia, also on corruption charges.