Gilad Shalit: Israelis hope for release five years on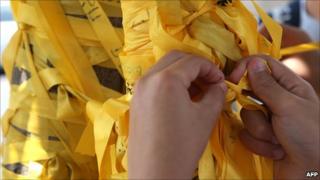 In May 2011, Israelis marked the fifth anniversary of Gilad Shalit's capture. The debate continued about what price should be paid to bring home a young soldier, as Yolande Knell reports.
Every morning at his residence in Jerusalem, the Israeli Prime Minister wakes up to large banners and flapping flags that read, "Gilad is still alive."
There is also a tree covered in yellow ribbons on the pavement outside and a campaign tent set up by the family and supporters of the captured soldier, Gilad Shalit.
His father, Noam, says the idea is to remind Israeli officials of their responsibility to ensure his son's safe release from Gaza, where Palestinian militants are holding him at an unknown location.
"He was sent on his compulsory military service, and he had no choice in this. He was sent on a mission by the government and the government should bring him back," says Mr Shalit.
"We are very worried about his physical and mental health after five years with no contact."
Events have been taking place across Israel to mark the fifth anniversary of the capture of the young corporal, 19 years old at the time he was seized.
In a country where almost every Jewish family has someone in the army, the campaign to free Gilad Shalit resonates deeply.
"I have a son who's in the midst of his national service. He's 20, and that of course augments everything that I'm feeling," says Shira Ezra.
"Just being an Israeli, I'm thinking how absurd it is that someone is alive there and we're not getting him out."
"I was also a soldier, and my husband was," says Natalie, who has travelled to Jerusalem from Haifa and made the tent her first stop-off. "I want this soldier to be free because I have my child too. I think about his future."
New revelations
A new documentary, recently aired on Israeli Channel 10, revealed previously little known details about the circumstances of Gilad Shalit's capture.
It showed how the day before he was taken, Israeli special forces entered Gaza and detained a member of the Palestinian militant group, Hamas. At the time, they did not know he was part of a unit planning to seize an Israeli soldier.
When Hamas heard the man was in custody, they did not cancel the operation. Instead, they brought it forward.
"The militant broke in interrogation and told everything, two or three hours after the kidnapping took place," says Itay Dankner, executive producer of When They Took Gilad. "This was one of the amazing things that we showed."
He describes how the militants also caught the soldiers by surprise in southern Israel, close to Gaza, early in the morning on 25 June 2006.
"What happened is they dug a tunnel that went about 400m (1,312ft) beyond the border," says Mr Danker. "So while the Israeli soldiers were looking towards the Gaza Strip, what actually happened is that Hamas came from behind."
Separate groups attacked a watchtower, an unmanned vehicle and Gilad Shalit's tank. He and his comrades were forced out of the hatch after a rocket-propelled grenade was fired at them.
According to a re-enactment approved by the military censor, Israeli soldiers rushed to the scene but were distracted by fighting nearby.
That meant it was over an hour before they found out that someone was missing.
Two Israelis and two Palestinians were also killed in the raid.
Price to pay
Soon after the capture of Gilad Shalit, Israel launched a military offensive in Gaza which it said was aimed at freeing him and stopping rockets being fired into the south of the country.
Some 300 Palestinians were killed and several Israelis died. The blockade of Gaza was also severely tightened. Still the soldier remained in captivity.
It was not until October 2009 that he was seen in a video message provided by Hamas.
"I hope the current government headed by Benjamin Netanyahu won't waste this chance to finalise a deal so I can finally realise my dream and be released," he said.
Indirect talks have centered on a prisoner exchange that would see hundreds of Palestinians freed from Israeli jails. An initial list provided by Hamas had 450 names but about a thousand individuals have been discussed.
It is thought there are over 5,000 Palestinians in Israeli prisons.
Some have been convicted of murder in Israeli courts. Some are detained without charge.
As Israel considers Hamas to be a terrorist organisation, it does not negotiate with it directly. Instead, Egypt and Germany have acted as go-betweens.
The Israeli Defence Ministry comments little, but this month a Hamas leader, Mahmoud Zahar, told the BBC he had "no idea about any progress or any reactivation of the file." He said ensuring the release of Palestinians held by Israel was "a humanitarian issue."
It is not clear how talks have been affected by recent political developments: a reconciliation agreement between Hamas and its rival, Fatah - as well as the revolution in Egypt.
In Israel, there is an ongoing public debate about the price that should be paid to bring a soldier home. Many question the principle of releasing people they call terrorists, and demand assurances that they could not attack Israelis again.
However, at the campaign tent, it is simply hoped that renewed public attention around this anniversary will raise pressure for a deal to be done.