Many killed in triple blasts in south Baghdad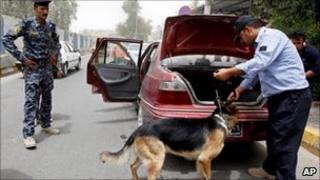 At least 23 people have died in three explosions in a busy district of the Iraqi capital Baghdad, officials say.
The blasts hit the Shurt al-Raba market in the south of the city, an interior ministry official told AFP news agency.
The area was crowded with shoppers and at least 82 people were wounded by the explosions, which occurred in quick succession.
Violence in Iraq has fallen sharply from its peak in 2006, but deadly attacks still occur on a daily basis.
An interior ministry official said explosives loaded into wooden carts were detonated in the market at 1845 (1545 GMT).
One bomb went off near Husseiniya, a place of worship for Shia Muslims, reports said.
'Bodies everywhere'
"I was on my way to the market when the first bomb blew up. People ran to see what's going on and the second one blew up," Sijad, a teenager who lives in the area, told Reuters news agency.
"Suddenly there were bodies everywhere around me, most of them women and children, and their things were scattered everywhere."
Ali al-Haidari, who suffered a shrapnel wound to the back, said he had tried to rescue two children from the scene.
"There was a big explosion. The dust was everywhere. I was running to the place of the explosion and then a few yards away, the second explosion happened," he said.
"I was running to the market because the bodies were everywhere. I carried two children in my arms. One of them was dead and the other one, a girl, was seriously wounded."
Also on Thursday, a US contractor was killed and three others injured in a car bomb attack also in the capital.
A witness told AFP the attack took place at the al-Mustansariyah University, just as the delegation was leaving in a reinforced vehicle.
Attacks against government officials and institutions in Iraq, including security forces, have risen in recent months.
On Tuesday, at least 25 people were killed in two bomb attacks outside the provincial governor's home in Diwaniya in central Iraq.