Syrian foreign minister condemns extended EU sanctions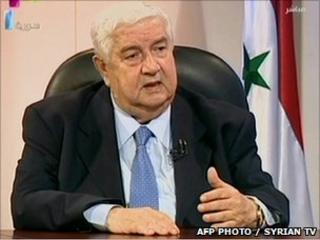 Syrian Foreign Minister Walid Muallem has attacked the European Union for extending sanctions against his country.
The EU is imposing a travel ban on four "military-linked entities" and seven individuals, implicated in the suppression of protesters in Syria.
The EU first imposed sanctions on President Bashar al-Assad on 23 May.
The president's promise earlier this week of reforms did little to placate his opponents.
In his address on state TV on Wednesday, Foreign Minister Muallem denied that Iran or Hezbollah had had a hand in putting down unrest inside Syria.
The EU disagrees. Three of the seven individuals being sanctioned are Iranians, according to an unnamed EU official who has spoken to reporters in Brussels.
The sanctions are expected to come into force on 24 June, once they have been signed off by EU member states.
Rounding on what Syria regards as unwarranted criticism by the European Union, Mr Muallem said; "No-one from Europe has come to visit Syria. They do not listen to us. They learn about Syria from outside Syria only. The world is not only Europe. We will forget that Europe exists on the map. We will ask to withdraw our membership from the Euromed."
Euromed was re-launched in 2008 to bring together the EU and its 16 neighbours in the Middle East and North Africa, with the aim of promoting democracy and free trade.
In a separate diplomatic development, the United Nations Secretary General Ban Ki-moon renewed calls for Syria to allow fact-finding and humanitarian missions, to investigate disputed events during months of anti-government protests.
Mr Ban spoke to the BBC shortly after he was re-elected as UN chief, saying he was very concerned about human rights violations in Syria.
The opposition estimates that more than 1,300 civilians have been killed along with more than 300 soldiers and police since March. Thousands more protesters have been detained, they say.
A recent government crackdown in the north of the country has led to thousands of Syrians fleeing into Turkey or camping out on the Syrian side of the border.
"Many foreign media outlets have not been honest in their coverage of events as they really happened in Jisr al-Shughour," Mr Muallem said.
"As for the refugees in Turkey, I know that these refugees were forced to flee and live in the tents that were erected for them weeks before the Syrian Army entered Jisr al-Shughour. We called them back to return home. President Assad gave them guarantees to return home. We call on our friends in Turkey to help us return these refugees home."
He also called on regional allies - particularly Turkey - to maintain good relations.
In his speech two days earlier, President Assad referred vaguely to dark forces attempting to destabilise Syria.
Now his foreign minister has pointed the finger specifically at al Qaeda.
"I cannot hide the fact that some of the practices that we have seen in the killings of security personnel gives an indication that these acts were carried out by al-Qaeda," he told reporters in Damascus.
He called on "the saboteurs" in Syria to end their violence, and join the national dialogue that he says will set out the path for the future.