'Al-Qaeda militants' break out of Yemen jail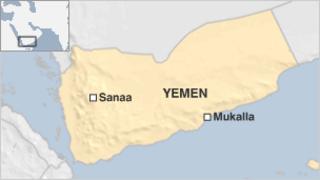 Dozens of al-Qaeda militants have escaped from a prison in southern Yemen following an attack, officials say.
They said the inmates fought their way out of the jail in Mukalla as militants attacked the prison from the outside.
At least 40 militants are said to have fled, including some convicted on terrorism charges. But one activist claimed the escape was orchestrated.
Months of unrest in Yemen have led to fears of al-Qaeda's influence spreading.
The country is home to al-Qaeda in the Arabian Peninsula (AQAP), which was blamed for a plot to blow up a US airliner over Detroit in 2009, and sent bombs on cargo planes bound for the US last year.
Unnamed Yemeni officials said one member of the security forces was killed in Wednesday's attack. One official said as many as 62 prisoners had escaped, and that two were rearrested.
A medical source told AFP news agency that two other security personnel had been wounded, and that several militants were also injured.
'Creating chaos'
Mukallla is the capital of Yemen's southern Hadramut province.
A spokesman for civil society organisations in Hadramut, Nasser Bakazzuz, denied there had been an attack, claiming that authorities had allowed al-Qaeda prisoners to leave the prison.
"The regime is living its last days and wants to create chaos in Hadramut province," he told AFP.
Yemen is in the midst of a political crisis following a popular uprising and an elite power struggle.
President Ali Abdullah Saleh, in power since 1978, was seriously wounded in an attack on his compound earlier this month and is being treated in Saudi Arabia.
The crisis has led to concerns that extremists may try to take advantage of the instability.
Yemen, the poorest country in the Arab world, has also been grappling with a separatist movement in the south and a Shia insurrection in the far north.
In 2006, 23 suspected members of al-Qaeda - including some who were convicted for attacks on the USS Cole in 2000 and the French tanker Limburg in 2002 - broke out of a prison in the capital, Sanaa.