Hillary Clinton praises 'brave' Saudi women drivers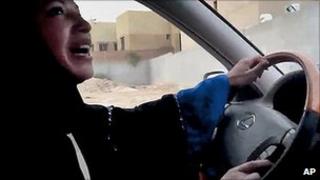 US Secretary of State Hillary Clinton has praised "brave" Saudi women who are campaigning for the right to drive.
Mrs Clinton said they were "right" to press their demands in the ultra-conservative kingdom, in her first public comments on the issue.
Many Saudi women openly took to the roads last Friday in defiance of an official ban on female drivers.
Last month a woman was arrested after uploading a video of herself driving a car.
"What these women are doing is brave, and what they are seeking is right," Mrs Clinton told reporters when asked to comment on the campaign.
"I'm moved by it and I support them."
'Quiet diplomacy'
However, she underlined that she was not interfering in the internal affairs of Saudi Arabia, a key US ally in the Middle East.
"I want to underscore the fact that this is not coming from outside of their country. This is the women themselves seeking to be recognised," she said.
Mrs Clinton's comments came a day after a US State Department spokeswoman said Mrs Clinton was engaged in "quiet diplomacy" over the issue.
Spokeswoman Victoria Nuland said that Mrs Clinton had raised the driving ban issue in a recent telephone call with Saudi Foreign Minister Prince Saud al-Faisal.
In an open letter to Mrs Clinton on Tuesday - released before her statement - Saudi women's rights activists said they were "disappointed" by the US approach.
The letter, from the Saudi Women for Driving coalition, reads: "Secretary Clinton: quiet diplomacy is not what we need right now. What we need is for you, personally, to make a strong, simple and public statement supporting our right to drive."
Last month, Manal al-Sherif was arrested after uploading a video of herself driving.
She was accused of "besmirching the kingdom's reputation abroad and stirring up public opinion", but was released after 10 days having promised not to drive again.
Since then, direct action has been organised on social network sites, with women posting images and videos of themselves driving.
The Women2Drive Facebook page has said that the direct action would continue until a royal decree reversed the ban.
The ban is not enforced by law, but is a religious fatwa imposed by conservative Muslim clerics.
It is one of a number of severe restrictions on women in Saudi Arabia.
Supporters say it relieves women of the obligation to drive and also prevents them from leaving home unescorted or travelling with an unrelated male.