Yemen: Twelve 'al-Qaeda militants' killed in Zinjibar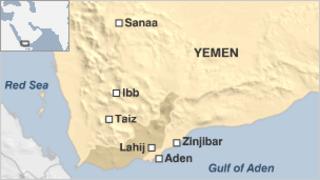 Yemeni troops have killed 12 suspected al-Qaeda-linked militants near the southern Islamist stronghold of Zinjibar, officials say.
The militants were targeted as they planted roadside bombs, a military official told AFP news agency.
Meanwhile, two soldiers were killed when gunmen attacked an army base in the area, the unnamed official added.
Analysts say al-Qaeda is exploiting a power vacuum left by months of protest against President Ali Abdullah Saleh.
More marches demanding Mr Saleh's resignation were held on Sunday in the capital Sanaa and the restive southern city of Taiz.
Failed mediation
Militants last month wrested Zinjibar - the capital of Abyan province - from government control, which correspondents said suggested a further weakening of the central government's authority.
Mr Saleh, the country's president of nearly 33 years, is in Saudi Arabia for treatment for wounds he suffered in a rocket attack on his compound in Sanaa this month.
Massive anti-regime protests have swept across Yemen since February.
After months of largely peaceful protest, the crisis has escalated in recent weeks, with government forces and heavily-armed tribesman fighting pitched battles in Sanaa.
Saudi Arabia and the Gulf Co-operation Council (GCC) have offered to mediate a peaceful resolution to Yemen's political crisis, but efforts thus far have failed.
Analysts fear that, left unchecked, the worsening security situation could cause the impoverished nation to fall deeper into chaos.