Palestinian Fatah-Hamas reconciliation talks 'on hold'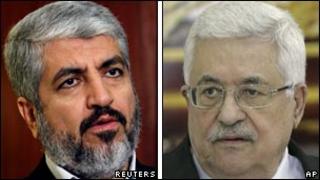 A scheduled meeting between Palestinian Authority President Mahmoud Abbas and Hamas political leader Khaled Meshaal has been postponed, officials say.
Tuesday's talks in Egypt's capital, Cairo, were aimed at reaching consensus over a new reconciliation government.
But continued disagreements meant the talks had been postponed indefinitely, said Fatah officials in Ramallah.
Meanwhile, Israeli President Shimon Peres has called for an "urgent" peace agreement with the Palestinians.
"I think neither side has much time. We have to act dynamically," he told CNN.
Mr Peres also warned the Palestinians not to make a "mistake" by asking the UN to recognise an independent Palestinian state in September.
"If you go for a declaration, you have a declaration. You won't have a change in the situation. It's not enough to declare, you have to agree."
He added that he believed Israeli Prime Minister Benjamin Netanyahu's government was "trying to arrive at peace".
Earlier, Mr Netanyahu and EU foreign policy chief Catherine Ashton discussed how to revive the peace process, which is deadlocked over the issue of Jewish settlements in the West Bank and East Jerusalem.
Their talks coincided with an announcement by the planning committee of Israel's interior ministry that it had approved the expansion of 2,000 homes in Ramat Shlomo. A room may be added to each home.
Almost 500,000 Israelis live in settlements on occupied Palestinian territory. They are illegal under international law, though Israel disputes this.
Fayyad rejected
President Abbas had been hoping to present an image of a united Palestinian front before seeking UN recognition, but the delay of his meeting with Mr Meshaal has cast doubts on last month's unity deal between their two groups.
Fatah, which runs areas of the West Bank through the Palestinian Authority, and Hamas, which governs in the Gaza Strip, agreed to form a joint interim government ahead of long-delayed elections next year.
But on Sunday, the meeting to unveil the new government was called off because of a lack of an agreement on the post of prime minister.
Mr Abbas had hoped to retain Salam Fayyad, who is widely respected and trusted by the US and EU. But Hamas considers him a stooge of the West and Israel.
Announcing the cancellation of the Cairo meeting, the chief Fatah negotiator at the reconciliation talks, Azzam al-Ahmed, said another would be scheduled soon.
"The meeting has been postponed until a new date is set in the coming days in order to assure the best atmosphere for the successful implementation of the reconciliation agreement," he told the AFP news agency.
Hamas' rejection of Mr Fayyad, a US-educated economist, could compromise foreign support for the new government, correspondents say. Hamas is designated a terrorist group by Israel, the US and the EU.
Under the reconciliation deal, which was brokered by Egypt, the first step was to form an interim government of technocrats whose task would be to work on reconciliation and prepare for new elections.
Leading members of Hamas and Fatah had said they would stay out of this government in the short term.
Israel has expressed disapproval of the move and suspended tax transfers to the Palestinian Authority, with the Israeli finance minister saying payments would be stopped until it was clear money would not go to militants in Hamas.