US vows to 'capture and kill' Ayman al-Zawahiri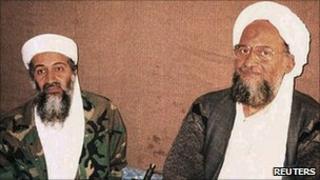 The US will hunt down and kill new al-Qaeda leader Ayman al-Zawahiri as it did Osama Bin Laden, Washington's top military officer has vowed.
Adm Mike Mullen said al-Qaeda still posed a threat to the US.
"As we did both seek to capture and kill - and succeed in killing - Bin Laden, we certainly will do the same thing with Zawahiri," he said.
Zawahiri's appointment was posted on a militant website and attributed to al-Qaeda's General Command.
"There is not a surprise from my perspective that he has moved into that position," Adm Mullen, chairman of the Joint Chiefs of Staff, told journalists.
Zawahiri has for a long time been the militant group's second-in-command. Osama Bin Laden was killed by US special forces in Pakistan in May.
'Lacking charisma'
The al-Qaeda statement vowed that that under Zawahiri, it would pursue jihad or holy war against the US and Israel "until all invading armies leave the land of Islam".
"Sheikh Dr Ayman al-Zawahiri, may God guide him, assumed responsibility as the group's amir [leader]", it said.
An unnamed US official said earlier that Zawahiri had "nowhere near" Bin Laden's credentials.
"His ascension to the top leadership spot will likely generate criticism if not alienation and dissention with al-Qaeda," the Obama administration official said, speaking on condition of anonymity.
He added that Zawahiri, 59, would find it difficult to lead while focusing on his own survival.
"The bottom line is that Zawahri has nowhere near the credentials that [Osama Bin Laden] had," said the official.
Analysts say Egyptian-born Zawahiri is intelligent but lacks the charisma of his predecessor.
He is claimed by some experts to have been the "operational brains" behind the 9/11 attacks on the US.
For years Bin Laden's deputy, with a $25m (£15m) bounty on his head, he had been widely anticipated to replace Bin Laden at the helm.
Zawahiri, whose 60th birthday is believed to be this Sunday, warned just over a week ago that Bin Laden would continue to "terrify" the US from beyond the grave.
Divisions?
The BBC's Middle East correspondent, Jon Leyne, says priorities for al-Qaeda's new leader may include attempting to mount a big attack to show the organisation is still in business.
In addition, he says, Zawahiri will want to turn the wave of unrest in the Middle East to al-Qaeda's advantage - perhaps building more of a power base in Yemen and working to intensify the instability there.
In his message last week, Zawahiri applauded the Arab uprisings against "corrupt and tyrant leaders" and urged those involved to continue their "struggle until the fall of all corrupt regimes that the West has forced onto our countries".
But our correspondent adds that the delay in announcing Zawahiri as al-Qaeda chief - coming as it does more than six weeks after Bin Laden's death, despite his being the obvious choice - may point to divisions within the leadership.
Zawahiri has for years had a bounty on his head and security analysts have suggested he is most likely to be hiding in the Afghan-Pakistan border region.
However, Bin Laden and other key militant leaders who were also believed to be concealed there have instead been discovered in Pakistani towns and cities.