Syria calls on Jisr al-Shughour refugees to return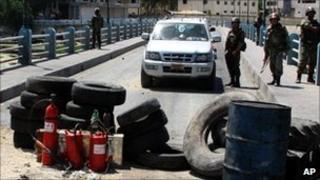 Syria has called on the people of Jisr al-Shughour to return to the town, three days after an army attack restored government control there.
Officials said the city was returning to normal, but that army units were still pursuing "militants" through the hills around the town.
At the same time, troops and tanks are reported to be massing for an attack on the nearby town of Maarat al-Numan.
Syria has also lashed out at criticism from the Arab League over its actions.
President Bashar al-Assad is facing the gravest threat to his family's 40-year ruling dynasty, as unrest that first erupted in the south of the country has now engulfed the north - near the border with Turkey - and is threatening to spread eastwards towards its border with Iraq.
'Limited operation'
More than 8,000 Syrians have fled from the north-western town of Jisr al-Shughour into Turkey in the past week to escape military operations, which the government says are aimed at tackling "armed groups".
Army units were continuing to pursue the "remnants of armed terrorist organisations" through the hills around the town, military statements said.
But the government says life in the town is gradually returning to normal, that people are starting to come back, and it urged others to return.
It said it was asking the Syrian Red Crescent to get in touch with its Turkish counterpart, to facilitate a return of the residents.
At the same time, the authorities say they are preparing for a "limited military operation" to restore security in Maarat al-Numan, 25 miles (40km) south-east of Jisr al-Shughour, straddling the main highway between Syria's two biggest cities, Damascus and Aleppo.
Tanks and troops are reported to be moving on the town, the site of large anti-regime demonstrations. Syrian state media have also reported attacks on government buildings and security headquarters.
Many of the town's population, estimated at around 100,000, are reported to have fled in anticipation of a crackdown.
Opposition activists say the army has also been deployed in two towns in the eastern province of Deir al-Zour, near the border with Iraq.
But protests have continued and a violent confrontation occurred this week between people loyal to President Assad and anti-government demonstrators, during which several people were seriously injured, residents told the Reuters news agency.
'Dangerous and worrying'
In a press release distributed on Tuesday, Syria's envoy, Youssef Ahmad, expressed "surprise" at the "unbalanced" position of Arab League Chief Amr Moussa.
Mr Moussa on Monday described the situation in Syria as "dangerous and worrying". He expressed concern about the large number of reported deaths and the exodus of refugees to Turkey.
The UN says more than 10,000 people have fled to neighbouring countries and Syrian rights groups put the overall death toll at 1,297 civilians and 340 security force members since the unrest erupted in mid-March.
Meanwhile refugees arriving in Turkey have described the operation in the northern mountains as a scorched-earth campaign, and Syrian soldiers who deserted have alleged they were forced to commit atrocities there.
They described shootings by troops and Alawite gunmen loyal to President Assad, known as "shabiha", and the burning of land and crops to subdue the region after large protests.
Mr Assad hails from the minority Alawite sect, an offshoot of Shia Islam, which represents about 11% of Syria's overwhelmingly Sunni Muslim population.
There are fears that a sectarian war could erupt - similar to ones seen in Iraq and Lebanon - should Mr Assad be toppled from power. Analysts say that, for now, he mostly has the support of minority groups and the upper classes, who prefer a heavy-handed regime to instability.
Syria has prevented foreign journalists, including those from the BBC, from entering the country, making it difficult to independently verify reports from there.
The United Nations emergency relief co-ordinator has repeatedly appealed to Syria to let in a humanitarian team make a proper assessment, but the Syrian authorities have refused.
European powers are campaigning for a draft UN Security Council resolution condemning the crackdown, but they face opposition from Russia and China, both of whom wield veto powers and object to UN action against President Assad.