Iraq: Gunmen storm Baquba council, killing eight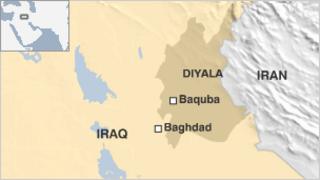 Gunmen and suicide bombers have stormed an Iraqi provincial council building in the city of Baquba, killing at least eight people.
A car bomb and a suicide bomber opened the attack the main gate.
At least five gunmen then stormed the compound, and a second suicide bomber blew himself up in fighting with troops.
The incident followed a pattern similar to that used by al-Qaeda in attacks earlier in the year.
The council of Diyala province, north-east of Baghdad, was due to meet in Baquba when the building was attacked.
Witnesses spoke of clashes inside the compound between the insurgents, armed with machine guns, and Iraqi security forces.
At least three of the attackers are thought to be among the dead. At least 17 people were wounded.
The US military said in a statement that its forces had provided "observation support" from helicopters.
The assault mirrored a similar attack by al-Qaeda on the Salaheddin government offices in Tikrit on 29 March that left 58 people dead.
Baquba itself was last the object of two major attacks on police compounds in January.
Diyala province saw some fierce sectarian in 2006 and 2007, with a strong al Qaeda presence.
Violence remains routine but is now at a much lower level. The US is planning to withdraw its remaining 45,000 troops from Iraq by the end of this year.