Palestinian faction Hamas rejects Fatah nominee for PM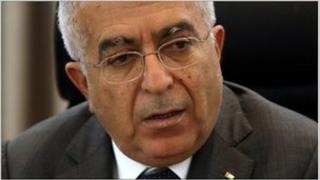 The Palestinian Islamist movement Hamas has rejected its rival Fatah's nomination of Salam Fayyad as prime minister in a transitional government.
The decision came hours after Fatah agreed to back Mr Fayyad, who currently heads the Palestinian Authority government in the West Bank.
Delegates from the two factions are due to meet on Tuesday in Cairo to agree the make-up of the new government.
Fatah and Hamas signed a deal in May ending their four-year split.
The agreement paved the way for a joint interim government ahead of national elections next year.
The Fatah-led Palestinian Authority runs parts of the West Bank, while Hamas governs the Gaza Strip. Hamas is designated a terrorist group by Israel, the US and the EU.
"The Fatah central committee's nomination of Salam Fayyad to head the government is a Fatah nomination and any head of the new government must be chosen by consensus and not, of course, by one of the parties," Hamas spokesman Sami Abu Zuhri told AFP news agency.
Correspondents say Hamas' rejection of the nomination of Mr Fayyad, a US-educated economist, could compromise foreign support for the new government.
With him as prime minister, international concerns that aid money would fall into Hamas's hands would have eased, they add.
Under the deal signed in May, the first step was to form an interim government of technocrats whose task will be to work on reconciliation and prepare for new elections.
Leading members of Hamas and Fatah had said they would stay out of this government in the short term.
Israel has expressed disapproval of the move and suspended tax transfers to the Palestinian Authority, with the Israeli finance minister saying payments would be stopped until it was clear money would not go to militants in Hamas.