Star Trek's Mr Spock urges two-state Mid-East solution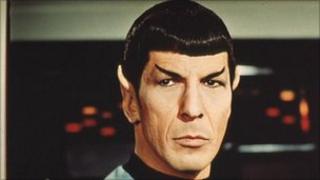 Leonard Nimoy, the Jewish-American actor who starred as Mr Spock in Star Trek, has become the latest celebrity to weigh into the debate about the Israeli-Palestinian conflict.
In an open letter published on the website of the non-governmental organisation, Americans for Peace Now, Mr Nimoy explains his support for a two-state solution.
He makes reference to his experience on the fictional Starship Enterprise to help express his views.
He characterises this as "a secure democratic Israel as the Jewish State alongside an independent Palestinian state".
The 80-year-old actor argues that the two-state solution "is still critical in this region for both Israel and the Palestinian people".
To illustrate his assertions that "the time for recriminations is over" and that "assigning blame over all priorities is self-defeating", Mr Nimoy describes an early Star Trek episode entitled, Let That Be Your Last Battlefield.
"Two men, half black, half white, are the last survivors of their peoples who have been at war with each other for thousands of years, yet the Enterprise crew could find no differences separating these two raging men," he says.
"But the antagonists were keenly aware of their differences - one man was white on the right side, the other was black on the right side. And they were prepared to battle to the death to defend the memory of their people who died from the atrocities committed by the other."
The actor goes on that he does not mean "to belittle the very real issues that divide Israelis and Palestinians". However, he says, the fictitious scenario shows that "myth can be a snare".
"Security and prosperity"
In his letter, he writes in favour of the division of Jerusalem, which both Israel and the Palestinians claim as their capital.
He mentions how a group of 50 prominent Israelis, including the former heads of Israel's intelligence service, Mossad, and its internal security agency, Shin Bet, have called for two states for two nations.
The actor also describes recent events that have an impact on the peace process - from the murder of a Jewish settler family in the occupied West Bank to the Middle East uprisings.
He adds that strong American leadership is needed "to pivot from the zero-sum mentality of violence to an attitude that focuses on the parties shared interests: security and prosperity".
This line has been interpreted as a reworking of his famous Star Trek line: "Live long and prosper," which usually followed a Vulcan salute in the sci-fi series.
The letter has been extensively picked up by the Israeli media.
"It's only logical: Mr Spock supports two-state solution for Mid-East peace," reads the headline in the Haaretz newspaper.