Syria prepares response to Jisr al-Shughour 'massacre'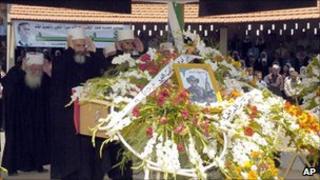 The events in the north-western town of Jisr al-Shughour may turn out to be some sort of turning point in Syria's uprising, as it moves towards completing its first three months with no end in sight.
The reported killing of more than 120 security forces personnel in and around the town in recent days is by far the biggest frontal challenge to Bashar al-Assad's regime since the revolt began in March.
The authorities have made it clear they will act decisively and forcefully to restore control.
It is a challenge they cannot ignore without admitting that they have lost control of a significant chunk of territory.
Preparations are under way for what local residents fear will be "another massacre", with troops and tanks from dependably loyalist units reported to be making their way towards the area.
The current lull is clearly the calm before the storm.
Syrian state television has been preparing the way for the campaign, repeating gruesome footage of some of the dead bodies, interviewing wounded survivors and loyal citizens calling for army intervention, and declaring that there is a "popular consensus" behind a military crackdown.
Activist internet sites, in counterbalance, have been carrying footage of night-time vigils and demonstrations in many towns and villages throughout the country, declaring solidarity with Jisr al-Shughour and calling for the overthrow of the regime.
Pause for thought?
The lull is clearly needed to give time for the logistics of a counter-attack to be put in place.
But could the regime also be taking a pause for thought?
That may depend on exactly what happened in Jisr al-Shughour, which remains shrouded in confusion.
Some sources have said the alleged slaughter may reflect defections, even a mutiny, within the ranks of the security forces.
Others have said local rebels have taken up arms against the regime, with weapons coming across the porous nearby border with Turkey - although activists continue to insist that their "revolution" is entirely peaceful.
It could also be a confusing and complicated mixture of both possibilities.
The regime's version of the story is clear and simple.
It says the security personnel were massacred by hundreds of armed men who attacked and burned official buildings in a rampage of death and destruction.
But state TV also said the gunmen were using government vehicles and wearing military uniforms.
Reporting what it called fierce clashes on Monday between security forces and rebels, it said the latter were "trained elements using medium-calibre weapons and grenades".
All of that could be compatible with significant defections from the army or security units, though that may not be the whole story.
If that should be the case - and there have been unverified but plausible appearances on YouTube by individual soldiers elsewhere saying they have deserted rather than shoot fellow citizens - it could be that Jisr al-Shughour has produced serious signs of dissension within the security forces.
If so, and even if not, the reliability of the units used to quell the defiance will be crucial for the regime.
Sectarian stress
According to some sources, the forces on their way to Jisr al-Shughour are from the army's 4th division, which is commanded by President Assad's brother Maher.
It has a reputation for unrelenting ruthlessness in crushing dissent, enhanced by its performance in the southern city of Deraa, where the uprising began in March and where defiance has continued despite severe repression.
One western military observer believed the army would want to "flatten" Jisr al-Shughour because it had lost so many of its men killed there.
But the town is almost entirely made up of Sunnis, who constitute the majority of the Syrian population at large.
The army is largely controlled by an elite officer corps from the minority Alawite community to which the ruling Assad clan belongs.
With the bulk of the rank and file inevitably made up of Sunnis, will there come a point when sectarian stress causes serious ructions within the regime's inner defences?
For nearly three months now, tanks and troop carriers have been rumbling from one trouble spot to another - Deraa, Baniyas, Latakia, Homs, Hama, the Damascus suburbs and many other places - and the flames seem to burst out again as soon as they move on.
It is an unprecedented situation, and by far the most serious threat the Baathist regime has faced since Bashar al-Assad's father Hafez took power through a "corrective movement" in 1970.
The biggest challenge to Hafez al-Assad's rule was mounted at Hama in the early 1980s, when a revolt by the Sunni-based Muslim Brotherhood was crushed and much of the city finally razed in 1982. Tens of thousands are believed to have been killed.
Nearby Jisr al-Shughour was also caught up in that revolt, and severely punished in 1980 for its part in the uprising.
The units now reportedly heading for the area are descended from the regime's former praetorian guard, the Defence Companies (Seraya al-Defaa), which under the command of Hafez al-Assad's brother Rifaat were responsible for the carnage at Hama.
In those days, such atrocities could be perpetrated almost secretly.
But much has changed, not least with the arrival of new media technology that makes every citizen an instant journalist, and a new international approach to crimes against humanity.
If another Hama is indeed about to happen, it could have a dramatic effect in further galvanising and hardening resistance to the regime inside the country, and opposition to it from without.
There is certainly no reason to believe that it would be effective in ending a revolt that refuses to go away despite all the repression and vague promises of modest reforms.