Yemen: Saleh 'gravely wounded' in rocket attack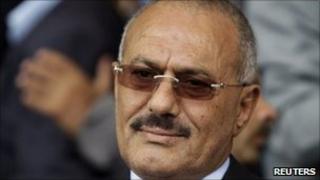 Yemen's President Ali Abdullah Saleh was more seriously injured in a rocket attack on his compound last week than thought, officials have told US media.
Mr Saleh suffered 40% burns and has bleeding inside his skull after Friday's attack, US officials told AP.
The president is receiving treatment in Saudi Arabia after the attack on his palace in Yemen's capital, Sanaa.
A senior administration official told the BBC that they were not going to comment on Mr Saleh's health.
"We're not doctors. As [the] Secretary [of State Hillary Clinton] said yesterday, we're focused here and in Sanaa on working toward a peaceful, orderly, non-violent transition, consistent with Yemen's constitution," the official said.
The country's acting leader, Vice-President Abd-Rabbu Mansour Hadi, has said Mr Saleh intends to return within days.
But analysts say that the severity of his injuries will have a direct impact on when - and if - he can come back to the strategically important country he has governed for 33 years, and on who will take power if he cannot.
'Assassination bid'
It was not immediately clear how severe Mr Saleh's burns and other injuries were but, on Saturday, sources close to the president told the BBC that he had second-degree burns on his chest and face, as well as a piece of shrapnel almost 7.6cm (3in) long under his heart.
The president underwent surgery on Monday to remove shards of wood from his chest and treat the heavy burns on his face and chest, AP reports.
The 69-year-old has not been seen since Friday's attack when rockets struck his presidential palace, killing seven people and wounding senior officials in what officials said was an assassination attempt.
According to AP, two US officials believe that the injuries were caused by a bomb inside the compound, rather than a rocket attack from outside its walls.
Mr Saleh, who has ruled since 1978, has refused to leave office despite protests and a tribal uprising which has brought the country to the brink of civil war and resulted in more than 350 deaths.
Despite repeated promises to do so, he has refused to accept a transition plan brokered by the Saudi-led Gulf Co-Operation Council.
The news of the gravity of his injuries comes as fresh clashes were reported in the southern Yemeni cities of Taiz and Zinjibar.
Military officials said they had killed 30 people they described as militants in Zinjibar, including one whom they said was a senior local al-Qaeda leader, naming him as Hassan al-Aqili.
Government officials routinely blame violence in the country on al-Qaeda in the Arabian Peninsula.
The US is keen for Mr Saleh not to return to Yemen. Along with other Western powers, it fears the crisis enveloping the country might make it easier for the powerful Yemen-based wing of al-Qaeda to strengthen.
On Monday, Mrs Clinton called for an "immediate transition" in Yemen and said the country needed a process that "everyone knows is going to lead to the sort of economic and political reforms that they are seeking".