Syria unrest: 'Deadly clashes' in Jisr al-Shughour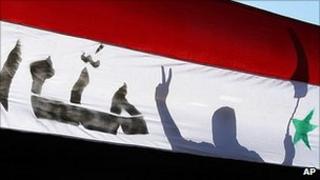 At least 35 people are reported to have been killed in the north-western Syrian town of Jisr al-Shughour as troops and tanks try to restore control.
Human rights activists said the dead included at least six policemen.
Tension has continued in the central city of Hama, where more than 60 protesters are believed to have been killed in protests on Friday.
President Bashar al-Assad is trying to face down anti-government protests sweeping Syrian towns and cities.
Syrian state TV showed pictures of burned-out public buildings, police stations and vehicles in Jisr al-Shughour.
Officials said police and security personnel had been attacked by armed gangs.
State TV said groups had been carrying out attacks on government buildings since Saturday, cutting off roads and intimidating residents.
Rami Abdul-Rahman of the London-based Syrian Observatory for Human Rights said six officers were among 35 people killed.
Machine guns
Foreign media are greatly restricted in Syria and the numbers cannot be independently verified.
Opposition activists said government forces were using heavy machine guns and rocket-propelled grenades to try to regain control over the town.
Further south, witnesses said the city of Hama was still tense, with shops closed and streets deserted, after the huge demonstration on Friday.
Reports said the bodies of many of those killed had been found in a public park on Saturday after they had gone missing.
In the eastern city of Deir ez-Zor, many protesters were reported to have been wounded when security forces tried to stop thousands of people tearing down a statue of President Assad's father, Hafez.
The protesters had earlier taken part in the funeral of a teenager killed on Friday.
The BBC's Jim Muir says protest organisers clearly want to intensify the momentum, and have called for more rallies on Tuesday, naming it a "Day of Awakening".
Protests inspired by uprisings in Tunisia and Egypt kicked off in mid-March in the southern town of Deraa and spread to other towns and cities.
President Assad, trying to protect his family's four decades of rule in Syria, has promised reforms, but protesters say they are not enough and are demanding he stand down.