Iraq: Bombs in Tikrit target mosque and hospital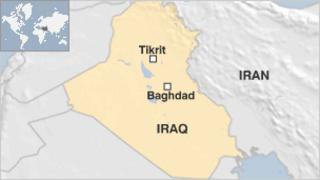 At least 21 people have died in twin bomb attacks in the northern Iraqi city of Tikrit.
In the first attack, a bomb exploded outside a mosque during Friday prayers, killing 16 people.
Hours later, a suicide bomber attacked the hospital where the injured were taken, killing another five.
Scores more were wounded. On Thursday, bombings in Ramadi, the capital of Anbar province, killed at least six people.
'Canister' bomb
The first blast in Tikrit happened at about 1245 local time (0945 GMT) on Friday, officials said. Some reports suggest the bomb was hidden inside a fuel canister at the entrance to the mosque.
Doctors said more than 50 people were wounded, including at least one member of the Salaheddin provincial council.
A suicide bomber later walked into the emergency room at the hospital and blew himself up near where family members had gathered, according to Mohammad al-Asi, spokesman for the Salahuddin provincial governor.
Five people were killed and 16 injured, a hospital official said.
Tikrit - about 130km (80 miles) north of Baghdad - is the home town of deposed Iraqi leader Saddam Hussein, executed in 2006.
Many of his relatives and former associates live there.
Although no group has said it carried out the attacks, suspected Sunni Islamists carry out frequent attacks in Tikrit and Salahuddin province, trying to stir up sectarian tension.
Tikrit is dominated by Sunni Muslims, a minority in Iraq who were favoured under Saddam.
While violence has decreased in Iraq in the last few years, attacks are still frequent and government or security officials are often targets.