Scandal-hit Israeli billionaire Sami Ofer found dead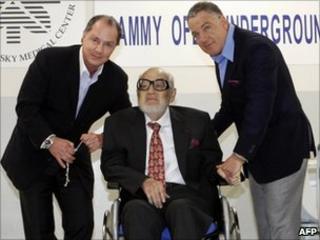 Sami Ofer, an Israeli billionaire at the centre of a scandal over business contacts with Iran, has died at his home in Tel Aviv.
Israeli media reported the 89-year-old had passed away after a long illness.
The US last month imposed sanctions on the Ofer Brothers Group, co-owned by Mr Ofer and his brother Yuli, accusing it of selling an oil tanker to a blacklisted Iranian firm.
The Ofers denied any wrongdoing, saying the US had made an unfortunate mistake.
Forbes magazine recently said the brothers were the richest men in Israel with interests in shipping, chemicals, real estate worth $10.3bn (£6.3bn) in total.
Forbidden contact
They have faced a mounting backlash in their home country over the allegations that Ofer Brothers Group and its Singapore-based subsidiary, Tanker Pacific Management, were involved in a sale to Iran's national shipping company, Islamic Republic of Iran Shipping Lines.
Many are shocked that two of Israel's most prominent businessmen could have benefited from trading with a country which the Israeli government believes is developing nuclear weapons - a charge Iran denies.
After the sanctions announcement, Ofer Brothers Group said it had never sold ships to Iran, and that the Israeli government would confirm this.
But US state department Mark Toner dismissed the denials, saying: "Ofer Holdings Group is the parent of a company called Tanker Pacific, and that's the company that actually sold this tanker to the Iranians.
"And the company and its subsidiary, frankly, has failed to do proper due diligence and to prevent this transaction. So they're responsible."
Then on Sunday, it emerged that several tankers part-owned by Tanker Pacific had repeatedly transported oil and petroleum products to and from Iran over the past decade, while Israeli officials were engaged in an intense diplomatic effort to tighten international sanctions.
Tanker Pacific said the shipments to and from Iran were legal at the time, and that it had stopped transporting refined petroleum products to Iran last year in compliance with unilateral US sanctions unveiled in July 2010.
On Thursday, sources close to the family said Sami Ofer had instructed all Ofer Brothers Group ships not to dock in Iran last year.
It came after a report that one of their vessels had stopped in Iran in February.
The Israeli parliament's economic committee tried to debate the affair, but its meeting was halted after only 15 minutes when the chairman received a note warning that such a discussion could be "damaging".
This prompted speculation that the Ofer brothers might have been helping the Israeli security services spy on Iran.
Prime Minister Benjamin Netanyahu has meanwhile asserted: "Israel's policy on Iran is very clear - any and all contact with it is forbidden."