Syrian unrest: Inquiry into Hamza al-Khatib's death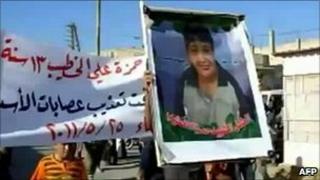 The Syrian authorities have announced a full inquiry into the death of a 13-year-old boy who has become a symbol for the continuing uprising against President Bashar al-Assad.
Opposition activists say the boy, Hamza al-Khatib, was abducted and tortured to death by local security forces.
The authorities insist he was shot dead during a demonstration.
Meanwhile, at least 25 people have been killed by troops in the central town of Rastan since Sunday, activists say.
'Martyr to all'
Hamza al-Khatib is being compared to the Tunisian market-seller Mohamed Bouazizi and Iranian pro-democracy protester Neda Agha Soltan, whose deaths galvanised anti-government campaigns.
He is also being called a martyr by the Syrian authorities.
Hamza went missing after a demonstration at an army barracks near Deraa in the south at the end of April.
Activists say he was captured and tortured to death, and that his mutilated body was handed back to his family four weeks later.
The government says he received three fatal gunshot wounds during the protest and died on the spot, but there was a delay in handing over his body because he was not identified.
Syrian state TV aired a programme about the teenager on Tuesday night in which a judge said death was due to "a number of bullet wounds without any indication of torture or beating on the body".
Coroner Akram al-Shaar blamed the state of the body on decomposition, adding: "There are no marks on the surface of the body that show violence, resistance or torture."
State TV said the teenager's father and family had been invited to meet President Assad, and they were quoted as saying he "engulfed us with his kindness and graciousness".
A man who identified himself as Hamza's father said: "The president considered Hamza his own son and was deeply affected."
But the BBC's Jim Muir in neighbouring Lebanon says the authorities' efforts have not stopped Hamza's death giving a new focus to the continuing revolt.
It has also given ammunition to critics of the regime, he adds.
US Secretary of State Hillary Clinton said she hoped the death would persuade Syria to begin a transition to real democracy.
Australian Foreign Minister Kevin Rudd said such incidents had robbed Mr Assad of any legitimacy and urged the the UN Security Council to refer him to the International Criminal Court.
Human Rights Watch (HRW) published a report on Wednesday that said "systematic killings and torture by Syrian security forces" in Deraa could qualify as crimes against humanity.
Activists say more than 1,000 people have died in weeks of protests.
Most of the deaths reported on Wednesday from Rastan took place a day earlier as the army shelled the town to deter protests, said activists.
The bodies of 20 people shot dead in Rastan on Tuesday night were brought to a hospital in the city of Homs on Wednesday, according to the activists.
Human rights lawyer Razan Zaitouna told the Reuters news agency that a a four-year-old girl was among 41 civilians who died on Tuesday.
State media said three soldiers were killed in Rastan on Wednesday in confrontations with members of "armed terrorist groups".
There were also reports of 16 people being killed by security forces in the nearby towns of Talbiseh and Teir Maala since Saturday, and eight people being killed in the southern town of Hirak in the past two days.
Meanwhile a UK-based rights group has said more than 500 political prisoners have been released.
Rami Abdul-Rahman, director of the Syrian Observatory for Human Rights, said that among those freed were people arrested for taking part in anti-government protests.
Announcing an amnesty on Tuesday, Syrian state TV said it would cover members of the banned Muslim Brotherhood, which led an uprising against Mr Assad's father Hafez in 1982.