Violence escalates across Yemen amid civil war fears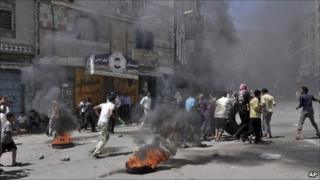 There has been a day of escalating violence in Yemen, where President Ali Abdullah Saleh is facing opposition on several fronts.
In the capital, Sanaa, security forces battled tribesmen in the streets after a ceasefire broke down, leaving at least two dead. At least 12 protesters were meanwhile shot dead in Taiz.
And in Zinjibar, Islamist militants killed at least five Yemeni soldiers.
There are fears that the unrest could turn into a civil war.
Western powers and Yemen's Gulf neighbours have been pressing Mr Saleh to sign a deal to hand over power to help end the crisis.
A US state department spokesman on Tuesday urged the president to leave office after 33 years in power "and to move Yemen forward".
Tensions rising
In Sanaa, there were fresh clashes between fighters loyal to Sheikh Sadiq al-Ahmar, the powerful head of the Hashid tribal confederation, and government forces still loyal to President Saleh.
The tribesman seized nine government ministries in the al-Hassaba district during fighting in the capital last week which left more than 115 people dead.
They withdrew from one ministry on Sunday as part of a ceasefire agreed with the government. But they accused Mr Saleh of not withdrawing forces surrounding Sheikh Ahmar's compound.
During Tuesday's fighting, the tribesmen seized control of the upper house of parliament, the headquarters of Mr Saleh's ruling General People's Congress party, the interior ministry and a key road leading to the airport.
A spokesman for Sheikh Ahmar said his supporters would seize anywhere which "poses any danger to us and that they are firing at us from".
State media accused "armed gangs" of tribesmen, backed by breakaway army units, of attacking and looting government offices, and said one soldier and one civilian had been killed. The tribesmen said at least five of them had died in the fighting.
The BBC's Lina Sinjab in Sanaa says tensions are rising and people are worried the situation could turn into a civil war.
Opposition groups accuse the president of arming civilians to turn the peaceful protests into battles, while independent activists have criticised Sheikh Ahmar's supporters for getting involved in an armed confrontation, though they blame the government for starting it, our correspondent says.
'Reprehensible acts of violence'
In the southern flashpoint city of Taiz, security forces opened fire on anti-government protesters who were attempting to gather at a square which was cleared by soldiers and tanks on Monday.
"The city is boiling," activist Ghazi al-Samie told the Associated Press. "And armoured military vehicles blocked all the roads leading to the city to prevent people from nearing districts to join the protesters."
Earlier, UN High Commissioner for Human Rights Navi Pillay said she had received reports that security forces and Saleh supporters had killed more than 50 people in Taiz since Sunday.
She called for a halt to the "reprehensible acts of violence and indiscriminate attacks on unarmed civilians".
Meanwhile, officials said five soldiers were shot dead in an ambush by Islamist militants in the southern coastal city of Zinjibar.
The soldiers killed two militants before fleeing, they added.
Hundreds of militants stormed the town last week, seizing government offices, security agency buildings and banks before setting up barricades on main roads. Heavy shelling by the army has failed to dislodge them.
At least 27 soldiers have been killed there since Friday, while the number of dead civilians and militants remains unclear.
It is unclear whether the attackers are connected to al-Qaeda in the Arabian Peninsula (AQAP), a regional offshoot of the militant network.