Iran acid attack: Ameneh Bahrami's quest for justice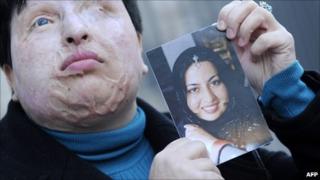 Ameneh Bahrami was the victim of a horrific acid attack that left her blind and badly disfigured. Under Sharia law, the Iranian courts ordered her attacker blinded, but the punishment has not been carried out. Here is the story of her relentless quest for justice.
In 2004, Ameneh Bahrami was an independent and attractive 24-year-old engineering student, already working at a lab in Tehran.
"A lot of boys used to come to my house - even university teachers would come - and ask for my hand in marriage," she told the BBC World Service's Outlook programme.
"I was a very beautiful girl."
She had never met Majid Movahedi when his mother called her family asking for her hand.
When she refused, Movahedi tracked her down at the university they both attended. They had a heated argument, though Bahrami still didn't know her pursuer's name.
What ensued was a series of phone calls, first from Movahedi's mother.
"She said her son was a man and if he wanted me, he would have me," Ms Bahrami says.
Death threats
During the first phone conversation Bahrami had with him, he threatened to kill her, she says, and after a series of further calls, his threats became even more sinister.
"He said 'I am going to destroy your life and do something so nobody will marry you'," she remembers.
She approached the police, but they told her that because Movahedi hadn't physically done anything yet, there was nothing they could do.
Two days later, as she left work in the afternoon, she noticed that someone was following her.
As she walked down a narrow lane, she slowed to let the stalker pass and realised it was Movahedi.
"He was smiling at me and laughing. There was a kind of happiness in his face and in his eyes."
She felt something hit her face but thought at first it was hot water.
"Then I felt the burning sensation and I knew that it was acid."
By the time she got to hospital, she had lost the sight in her left eye.
"I was scared to touch my face because I knew I didn't have a nose, I didn't have lips. When I put my hand near my left eye I didn't feel anything.
"My mother didn't let me look at the mirror. Then after a week, the sight went in my other eye," she says.
'Hanging is easier'
Supported by then-President Mohammad Khatami, she travelled to Barcelona for specialist treatment to regain the sight in her right eye.
But after the 2005 election, when Mahmoud Ahmadinejad came to power, the support dried up. She was left penniless and alone in a foreign country.
She was then taken to a homeless shelter for women where she picked up an infection in her remaining eye.
"I was wiping my eye with a handkerchief and when I went to throw it in the bin, I realised that it was very heavy."
The loss of her eye changed her attitude towards her attacker.
During her struggle to regain her sight, Bahrami had rarely thought about him. But now, she resolved to see Movahedi punished.
She returned to Iran in 2007 with the help of a former employer and took up a case for retributive justice - to inflict on Movahedi the same damage he had caused her.
"I went to the court and said 'I want revenge'. They said, 'We cannot do this, just ask for hanging, that is much easier for us'."
'Cruel and inhuman'
Retributive justice is legal in Iran under the Islamic Sharia code of qisas (retribution), but it is rarely used.
Bahrami won her case in 2008, when the court ruled that the 27-year-old Movahedi should be blinded with acid. It also sentenced him to jail and ordered that he pay compensation to the victim.
The Iranian authorities were hesitant to carry out the blinding, but after years of delay, the punishment was scheduled for 14 May.
On that day, Bahrami went to the prison where her attacker was being held. The procedure was once again postponed when prison authorities failed to find a doctor willing to carry it out.
Human rights organisations are among those pushing for the retribution ruling to be revoked.
"It is unbelievable that the Iranian authorities would consider implementing such a punishment," said Hassiba Hadj Sahraoui, Deputy Director of Amnesty International's Middle East and North Africa Programme.
"Regardless of how horrific the crime suffered by Ameneh Bahrami, being blinded with acid is a cruel and inhuman punishment amounting to torture."
Movahedi remains in prison indefinitely, awaiting the carrying out of his sentence.
With fresh funding from a US-based charity, Ameneh Bahrami is in Barcelona undergoing further facial reconstruction surgery. But she is determined to pursue the ruling.
"If I forgive, I get nothing for forgiveness," she says.
"The same if I take his eyesight, I get nothing. But I want people like Majid to know that there is punishment."