Yemen: 38 killed as tribe battles government forces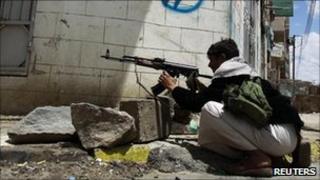 Thirty-eight people have been killed in renewed fighting between Yemen's security forces and armed members of the country's biggest tribe.
Witnesses reported machine-gun and heavy weapons fire in a northern district of the capital, Sanaa.
Some of the clashes were around the home of tribal leader Sheikh Sadeq al-Ahmar, who has joined protests against President Abdullah Saleh's rule.
The two sides also fought outside several key government ministries.
Sheikh Ahmar, head of the powerful Hashid tribe, is a former supporter of the president. He joined the anti-government protests against Mr Saleh in March.
"The clashes were violent. The sound of machine gun and mortar fire could be heard everywhere, " one witness told Reuters news agency.
Medical sources said 24 tribesmen were killed while government officials said 14 security personnel were killed in Tuesday's fighting.
The clashes flared after two tribal fighters were reported killed and 25 other fighters wounded on Monday.
The violence follows Mr Saleh's refusal to sign a Gulf-brokered transition deal on Sunday.
He said he would only sign in the presence of opposition leaders.
The deal called for Mr Saleh to step down within a month after 33 years in office and hand over power to a unity government. It would also have given the president immunity from prosecution.
Mr Saleh has been criticised by Western powers, in particular the US and France, for failing to agree to a transfer of power.
Meanwhile, many protesters - inspired by the successful revolts in Tunisia and Egypt - say the Gulf accord does not go far enough, and are calling for Mr Saleh's immediate departure.
In March, Sheikh Ahmar said he was "joining the revolution" and called on Mr Saleh, himself a member of the Hashid tribe, "to exempt Yemen from the bloodshed and make a quiet exit".