Trying to meet Egypt's economic expectations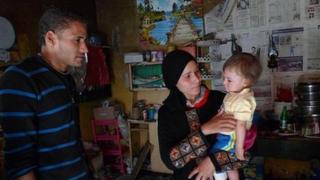 The mass uprising that swept aside the autocratic government of Hosni Mubarak raised hopes and expectations across Egyptian society. But the success of the Egyptian revolution and of the political reform movement throughout the Arab world, depends on meeting those expectations.
The new government is under pressure to move quickly against those who abused their power under the old regime.
But it is also under pressure to improve the lives of the tens of millions of Egyptians who live in poverty. And today's economic realities present a formidable challenge to these goals.
Political upheavals sometimes throw people into unexpected jobs. Samir Radwan, an economist who has spent most of his career as an advocate for workers' rights in the International Labour Organisation, suddenly finds himself as minister of finance, with a rapidly dwindling pot of cash.
"Egypt is known as a land of miracles", he observes dryly, "but not to this extent".
'Factional demands'
He reeled off some frightening statistics. Foreign currency reserves are down by $3bn (£1.8bn) a month. Exports are down 40%, and tourist revenue down $13.5bn (£8.3bn) since the uprising began. Industry is working at only 50% capacity because of constant strikes.
"We started with a beautiful, noble revolution that turned into unprecedented, factional demands," he says.
"Many of the demands are legitimate. Wages were too low, conditions were bad."
He cites his own official salary - just $300 (£186) a month, but still more than most civil servants earn. No wonder corruption is so rife.
Low wages and restrictions on trade unions were the grievances that originally sparked off the 6 April Youth Movement, which led the anti-Mubarak uprising.
So having a finance minister with a labour background and a government closely attuned to public sentiment should be cause for celebration.
But more than three months after the revolution, labour activist Reham al-Menshawi is disappointed. She is campaigning for entirely new labour laws and a rise in the minimum wage to at least three times its current level of $70 (£43).
'Cap-in-hand'
"I'm sure they face a lot of challenges. But I believe they could be faster than this," she says.
"They gave us a lot of promises at the beginning. The new government has a lot of specialisations. I don't find it difficult for the minister of labour to change the labour law, or for the finance minister to respond to our demands."
Like many Egyptians, Ms al-Menshawi cites all the money those close to the former president are alleged to have stolen.
It is widely believed to run into many billions - enough, surely, to help the country's current predicament?
But even if the estimates are accurate, the experiences of other countries that have overthrown corrupt regimes suggest most of the money may never be recovered.
Instead, Samir Radwan has had to go cap-in-hand to the International Monetary Fund (IMF) and to neighbouring countries, for emergency loans.
He is hoping for a total of $12bn (£7.4bn) from the IMF and has already been promised $4bn (£2.47bn) by Saudi Arabia.
This is just to plug a yawning budget deficit, projected to rise to 10% of gross domestic product (GDP) by next year.
'Security priority'
And that leaves some in the business community worried. "It's all very well for the government to go out and say we need help", says Sherif Raafat, former head of the Cairo and Alexandria Stock Exchange.
"But they have to come up with an economic programme to boost private sector investment. The priority today is to restore security - the social fabric is breaking down with sectarian clashes."
He worries about the huge amounts of money going to food and other subsidies. Much of it, he believes, is being wasted. He is concerned too about the pressure on the government to roll-back the privatisation of state-owned industries.
He is also anxious about the impact investigations into alleged abuses by entrepreneurs under the old regime could have on business confidence. Around 20 business figures associated with Mr Mubarak's sons are already in jail. Dozens more have had their bank accounts frozen and been barred from overseas travel.
At one textile factory, in the bleak industrial area known as Sadat City, a group of workers had not been paid for three months, after their boss fled. He is related to Ahmed Ezz - the most notorious of the tycoons who prospered under President Mubarak, and now on trial for corruption.
The workers assumed their boss was trying to avoid the same fate, although they knew of no allegations against him.
They had tried restarting the factory themselves, but had no funds even for power supplies. They hoped the government would eventually step in and help.
Economic frustrations
Mohammed does not even have a regular salary. I met him during a workers' rally in Tahrir Square. He is a stone-cutter by trade, but he survives mainly by doing casual labour on building sites.
Even so, the amount he earns - usually around $30 a month - is nowhere near enough for his wife, baby daughter and himself to live on.
He seethes with frustration at his inability to improve his lot.
He took me back to see his home, deep in the Nile Delta - a crumbling, mud-brick dwelling, mostly taken over by domestic animals. The straw roof had rotted and the family rents a room next door, a cost they can ill afford.
His dream, he told me, was to rebuild a simple house in concrete and brick, a goal that is now hopelessly beyond his means.
"This is not living", he remarked. "We just work and work and all we can do is buy food to eat."
Samir Radwan has to find the funds to address this tide of discontent, before it drowns out the ideals of Egypt's revolution.
He argues that the entire Egyptian economy needs re-structuring to make it more competitive, to create the real jobs that would offer hope to people like Mohammed.
But his is an interim government. That task will fall to whatever government emerges from an election due some time this year.
"I just count the days in my job", he says "like a prisoner".