Syria condemns EU sanctions on Bashar al-Assad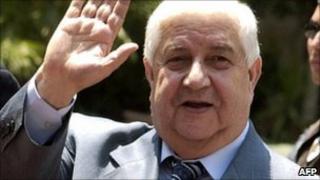 Syria has denounced sanctions imposed on President Bashar al-Assad by the European Union, saying the measures would "harm the Syrian people".
Foreign Minister Walid Muallem accused the EU of "trying to impose their will" on Syria.
"Today, the Europeans have added a black page to their record of colonialism in the region," he said.
EU ministers had earlier added Mr Assad and nine officials to a list affected by travel bans and asset freezes.
They had already placed restrictions on the president's brother, four of his cousins and others in his inner circle, in response to the Syrian regime's crackdown on pro-democracy protests.
'Hurt Europe'
Human rights activists say more than 850 people have been killed and thousands arrested since the operation to quell dissent began in March.
The US has also imposed sanctions on Mr Assad, with President Barack Obama last week calling on him to lead the transition to democracy or "get out of the way".
On Monday, Secretary of State Hillary Clinton again urged Mr Assad to "end the cruelty" against demonstrators, at a news conference with her British counterpart William Hague in London.
"Stop the killings, the beatings, the arrests, release all political prisoners and detainees," Ms Clinton said.
"Begin to respond to the demands that are upon you for a process of credible and inclusive democratic change."
But in an interview with Syrian state television, Mr Muallem said the US and EU had "no role to play" in the future of Syria.
"They [the EU] erred when they attacked the president and when they adopted sanctions that harm the Syrian people," he said.
"Just as the measures will hurt Syrian interests, they will also hurt European interests.
"They are trying to impose their will on Syrian decision-making, but history has proven that Syria does not succumb to pressure," he said.
The foreign minister said Syria would respond by strengthening its relationship with Russia, China and Latin America, "to prove to the West that the world is wide and is not made up only of America and Europe".
The 10 individuals affected by EU sanctions will not be named until Tuesday, but the council of the European Union said it condemned "in the strongest terms the ongoing repression in Syria and the unacceptable violence used by the military and security forces against peaceful protesters which have lead to hundreds of fatalities".
On 10 May, the EU unveiled an asset freeze and visa ban on 13 leading Syrian officials, including the president's younger brother, Maher al-Assad. He was described as "principal overseer" of the violence.
The Syrian government insists it is pursuing "armed terrorist gangs".
At least 44 people are believed to have been shot dead during last Friday's nationwide demonstrations. But the government said only 17 people had been killed by armed gangs at small gatherings.