Yemen: Three die in Sanaa as Hashid tribe fights police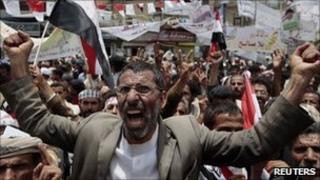 Three people were killed and 25 wounded during heavy fighting in the Yemeni capital Sanaa, medics and officials said.
Security forces clashed with members of the country's powerful Hashid tribe in a northern district, near the home of tribal leader Sheikh Sadeq al-Ahmar.
Witnesses said machine-guns, grenades and tanks were used.
Sheikh Ahmar, a former supporter of President Abdullah Saleh, joined protests against his rule in March.
The clashes, which one official said lasted six hours, were among the fiercest since demonstrations against Mr Saleh's regime began.
Outside the interior ministry, tribesmen and security forces traded fire with automatic weapons and rocket-propelled grenades, witnesses told the Associated Press news agency.
An office building of Yemeni Airlines was on fire, and smoke poured out of a building inside the interior ministry compound.
Deal breaker
Two tribal fighters were killed and 25 other fighters wounded, a medical official told AP. A bystander was also killed, a security official said.
It is not clear what triggered the violence.
An aide to Mr Ahmar accused security forces of trying to storm the Hashid leader's residential compound and said tribal fighters counter-attacked.
But witnesses told AP that security forces had been setting up roadblocks between the compound and the nearby Interior Ministry, and that tribesmen saw it as a provocation.
Following the clashes, the US embassy in Yemen said it was shutting its consular section to the public for at least two days because of the insecurity.
No signature
The violence came a day after Mr Saleh refused to sign a Gulf-brokered transition deal.
He said he would only sign in the presence of opposition leaders.
Saleh supporters besieged Western and Arab diplomats in the United Arab Emirates embassy, preventing the Gulf mediators from reaching the palace for the intended signing.
The Gulf Co-operation Council then suspended the initiative because of "a lack of suitable conditions".
It was the third time Yemen's president had failed to sign the peace deal since protesters took to the streets in February to demand he resign.
The European Union expressed its "extreme concern" over Mr Saleh's "repeated failure" to sign up to the initiative, while France accused him of being "irresponsible".
The deal called for Mr Saleh to step down after 33 years in office and hand over power to a unity government within a month. It would also have given the president immunity from prosecution.
Mr Saleh has been criticised by Western powers, in particular the US and France, for failing to agree to a transfer of power.
Many protesters meanwhile - inspired by the successful revolts in Tunisia and Egypt - say the accord does not go far enough, and are calling for Mr Saleh's immediate departure.
In March, Sheikh Ahmar said he was "joining the revolution" and called on Mr Saleh, himself a member of the Hashid tribe, "to exempt Yemen from the bloodshed and make a quiet exit".