Russia expels Israel military attache 'for spying'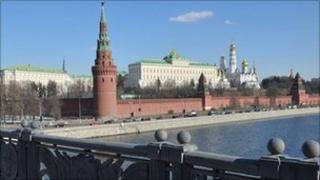 Russia has expelled the Israeli military attache to Moscow after accusing him of espionage, the Israeli military has confirmed.
Col Vadim Leiderman was questioned 10 days ago, given 48 hours to leave and is back in Israel after claiming diplomatic immunity.
The Russian government has not commented officially.
However, the Israeli army said it had investigated the claims and believed them unfounded.
Israeli media said Col Leiderman was taken from a cafe or restaurant and accused by Russian intelligence of passing sensitive information to Israel.
A joint statement by Israel's defence ministry and the military spokesman's office said: "The [Israel Defence Forces] military attache and ministry of defence representative in Russia, an IDF colonel, was detained for investigation last week by Russian authorities, on suspicion of spying.
"Security authorities in Israel completed a thorough investigation and concluded that these claims were unfounded."
Israel's Haaretz daily said there had been a gagging order on reporting the matter until Wednesday evening.
Israel has expressed concern recently at Russia's nuclear co-operation with Iran and arms sales to Syria, Agence France-Presse news agency reports.