Syria: US sanctions target President Bashar al-Assad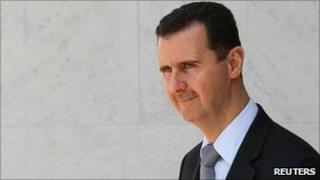 The United States has imposed sanctions on Syrian President Bashar al-Assad for human rights abuses.
It represents the first time Mr Assad has been targeted specifically by the international community for his government's crackdown on protesters.
President Barack Obama last month imposed sanctions on his brother Maher, his cousin and an intelligence chief.
Syria condemned the sanctions, which it said were part of a US effort to impose its policies in the region.
"The sanctions have not and will not affect Syria's independent will," an official source was quoted as saying on state television.
Meanwhile, Mr Assad has said his security services made some mistakes in their handling of demonstrations, the al-Watan newspaper reported.
He attributed the shortcomings to a lack of experience with such situations, which he said would normally be the police's responsibility.
Mr Assad also "gave assurances that Syria had overcome the crisis" and that "events were coming to an end", the newspaper added.
The admission came as the BBC received new reports of attacks on civilians in Tal Kalakh, near the border with Lebanon, which has been besieged for several days. Activists say at least 27 people have died.
'Worst tactics'
The executive order signed by Mr Obama on Wednesday punishes Mr Assad and six senior Syrian officials for human rights abuses.
The others named are:
Vice-President Farouk al-Sharaa
Prime Minister Adel Safar
Interior Minister Mohammed al-Shaar
Defence Minister Ali Habib
Abdul Fatah Qudsiya, the head of Military intelligence
Mohammed Dib Zaitoun, the head of the Political Security Directorate
Mr Obama wanted to "increase pressure on the government of Syria to end its use of violence and begin transitioning to a democratic system that ensures the universal rights of the Syrian people", an official said.
A US state department official said it was time for Mr Assad "to lead a political transition or to leave".
The US and EU have already imposed sanctions on other senior figures close to Mr Assad, but have so far stopped short of targeting him.
The new measures freeze any assets they have in US jurisdiction and make it illegal for Americans to do business with them.
The US has not yet called on the Syrian leader to go, although one senior state department official said on Wednesday that he had a choice now.
"We are saying that we oppose his behaviour and that he needs to stop his policies of repression and mass arrests and begin a political transition that ensures fair representation and democratic rights for Syrians," the official told reporters.
The US also said it had designated other individuals and entities complicit in the repression, including Hafez Makhlouf, a cousin of the president and senior official in the General Security Directorate (GSD); Qasem Soleimani, commander of the Iranian Islamic Revolution Guard Corps' elite Quds Force, the conduit for Iranian material support to the GSD; and Mohsen Chizari, head of operations and training for the Quds Force.
Human rights activists say more than 850 people have been killed and thousands arrested in the operation launched to quell dissent in March.
The Syrian government blames most of the violence on "armed criminal gangs", saying they have killed more than 120 soldiers and police.
The sanctions were announced the day before a major speech on the uprisings in the Middle East and North Africa by Mr Obama.