Syrian soldiers 'held in Lebanon after fleeing clashes'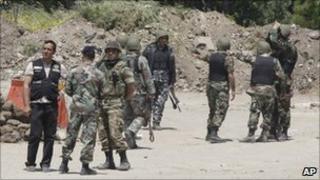 Lebanon has detained at least two Syrian soldiers who crossed its border to escape clashes between security forces and protesters, activists say.
The soldiers reportedly fled after opening fire on pro-regime militiamen attacking civilians near a border checkpoint they were manning. A third soldier is said to have been killed.
Activists have appealed to the Lebanese army not to hand the soldiers back.
There has so far been no comment from the Lebanese or Syrian authorities.
Syrian civilians who have poured over the Lebanese border in recent days say security forces have surrounded the western town of Tal Kalakh and the nearby village of Arida, and launched a brutal crackdown.
At least 16 people have been killed and scores arrested, activists say.
"They destroyed the houses, they cut electricity and water. The wounded are dying in our hands and the dead are strewn on the streets," a Tal Kalakh resident told the Reuters news agency by telephone.
Nabil Halabi, the head of the Lebanese Institute for Democracy and Human Rights, said the soldiers had been manning a checkpoint close to the border when a group of civilians tried to cross into Lebanon.
The civilians came under fire from border guards and members of an armed gang loyal to Syrian President Bashar al-Assad known as "shabiha", he added.
"The shabiha and Syrian border guards opened fire on refugees headed for the Wadi Khaled region, as well as on Lebanese who were waiting on the other side of the border," he told the AFP news agency.
Some soldiers shot back at the security forces and three were wounded in the exchange, one of them fatally, Mr Halabi said.
He said Lebanese army intelligence agents had taken away "the two soldiers and the corpse", and that he feared they would be deported to Syria where there would be at risk of torture and execution.
The mayor of the Lebanese village of Muqaibileh told CNN that three unarmed Syrian soldiers had crossed the border from Arida, where they were stationed. He did not say if one had been fatally wounded.
Syria's state news agency said eight soldiers and policemen were killed on Tuesday while pursuing "wanted armed terrorists" in Tal Kalakh and the surrounding area. Several gunmen were killed or captured, it added.
Foreign journalists have been blocked from entering Syria and the reports could not immediately be verified.