Syria denies reports of mass grave in Deraa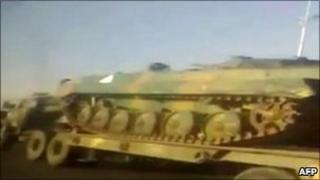 The Syrian government has denied persistent reports that at least one mass grave has been uncovered in the restive southern Syrian city of Deraa.
The reports were "completely untrue" and part of a "campaign of incitement", the interior ministry said.
Syrian human rights activists and residents said more than 20 bodies had been exhumed from one mass grave, and that others had been found in the area.
They also said 41 other corpses were found in fields around nearby towns.
Foreign journalists have been blocked from entering Syria and the reports could not immediately be verified.
Meanwhile, US Secretary of State Hillary Clinton announced that Washington would be taking "additional steps" in the days ahead against Syria because of its violent response to anti-government protests, which she said had left nearly 1,000 people dead.
"President [Bashar] al-Assad talks about reform, but his heavy-handed brutal crackdown shows his true intentions," she said during an appearance alongside the EU's foreign policy chief, Catherine Ashton.
Baroness Ashton said: "If the government really does - as it keeps telling us it does - want to see some kind of change, it's got to be now."
The US and EU have already imposed sanctions on senior figures close to President Assad, but have stopped short of targeting him specifically.
'Cordoned off'
Deraa was the first Syrian city to see pro-democracy protests, in mid-March, and became an epicentre of the unrest after security forces launched a major operation to crush any dissent there. Dozens of people are believed to have been killed and hundreds arrested.
On Tuesday, the Syrian interior ministry admitted that five bodies had been found on Sunday in the Bahar area of Deraa, and that the deaths were being investigated.
But it dismissed allegations of a mass grave as part of a campaign of incitement and fabrication by the international media.
Syrian human rights organisations, however, brushed aside the denials and insisted that 24 bodies were dug out of a shallow grave. The victims included a 62-year-old man, four of his children, a woman and another child, they said.
They also said a total of 41 other corpses were found strewn around wheat fields near the towns of Jassem and Inkhil, to the north of Deraa, both of which were attacked by security forces recently.
Amnesty International called on the Syrian authorities to launch "a prompt, impartial investigation into reports that a number of bodies were unearthed" and "into how those deaths occurred".
President Assad is reported to have personally assured the UN Secretary General, Ban Ki-moon, that a humanitarian mission could go to Deraa to assess the situation. It has not been able to despite repeated requests.
The BBC's Jim Muir in Beirut says amateur video shows Syrian army tanks still inside the city, despite several announcements that they have been withdrawn.
The army is also still in action at the latest hotspot - the town of Tal Kalakh, north-west of Damascus, where a crackdown has sent hundreds of civilians fleeing across the nearby border into Lebanon, he adds.
The Syrian military announced that eight soldiers or police were killed in the latest incidents, which it blamed on "armed criminal gangs". The government says more than 120 soldiers and police have died.