Palestinian leader Abbas appeals for independence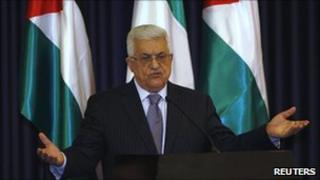 The Palestinian Authority President Mahmoud Abbas has made a fresh appeal for international recognition of an independent Palestinian state.
Writing in The New York Times, Mr Abbas says that Palestinians "cannot wait indefinitely" for their own state.
He wants the United Nations General Assembly to vote in September for an independent Palestine.
The appeal comes days before Israeli Prime Minister Benjamin Netanyahu is due for talks at the White House.
Mr Netanyahu is scheduled to address a joint meeting of the US Congress during his visit to Washington, and reports suggest he will argue against the Palestinian bid.
The United States has urged the Palestinians and Israel not to take unilateral steps that could jeopardise a final peace settlement.
In his opinion piece in The New York Times newspaper, President Abbas points out that the state of Israel was recognised swiftly after its declaration of independence in 1948, while "our Palestinian state remains a promise unfulfilled".
Mr Abbas calls for the establishment of a state of Palestine along the borders recognised internationally at the end of the Six Day War in 1967.
Palestinian aspirations have been given renewed impetus by the recent deal between the Palestinian Authority, led by Mr Abbas and dominant in the West Bank, and Hamas, which governs the Gaza Strip.
The agreement between the rival factions paves the way for a joint interim government ahead of national elections next year.
But Hamas is designated a terrorist group by Israel, the US and the European Union.
Mr Netanyahu dismissed the agreement as "a tremendous blow to peace and a great victory for terrorism".