Palestinians hold funerals for protests' victims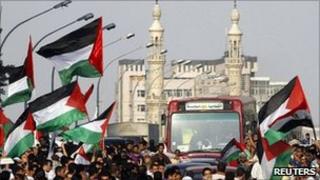 Funerals are due to be held in Palestinian refugee camps in southern Lebanon following the deaths of 12 people on Sunday in demonstrations on Israel's borders.
Israeli PM Benjamin Netanyahu has said the his country is determined to defend its sovereignty.
Tens of thousands of Palestinians and their supporters marched towards Israel from Lebanon, Syria and Jordan.
In one incident, thousands from Syria entered the Golan Heights, Israel says.
There was also unrest in the West Bank and Gaza Strip. In Cairo, Egyptian security forces fired tear gas to disperse demonstrators outside the Israeli embassy.
Palestinian camps across Lebanon have declared a day of mourning, with shops observing a general strike ahead of the funerals.
The protests were held to mark the Nakba, or Catastrophe - the Palestinian term for the founding of the Israeli state in 1948. Hundreds of thousands of Palestinians fled or were forced out of their homes in fighting during and after Israel's creation.
Complaints
Mr Netanyahu has warned against further protests on Israel's borders.
Responding in a televised address to Sunday's violence, Mr Netanyahu said he hoped "calm and quiet will quickly return, but let nobody be mistaken, we are determined to defend our borders and sovereignty".
Israel says it will submit a complaint to the United Nations Security Council against Syria and Lebanon over the infiltration of its border by Palestinian refugees.
Lebanon has filed its own complaint with the UN against Israel over the shootings.
The leader of Lebanon's Hezbollah movement, Hassan Nasrallah, said the protests had given the anniversary a new meaning.
Clashes took place at four separate borders or crossing points - at Erez in Gaza, near Ramallah in the West Bank, on the Golan Heights and at the border with Lebanon.
The Israeli army remains on high alert and is searching for any Syrian protester who might still be in the country after breaking through the border.