Syria: Seven killed in Tell Kalakh in security crackdown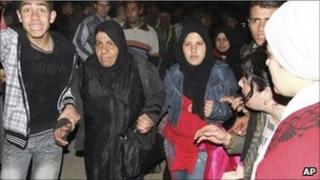 At least seven people were killed in Tell Kalakh, western Syria, on Sunday during a crackdown by security forces, activists have said.
They died after "indiscriminate shelling" from the military, the Local Coordination Committees said.
Earlier, a resident told AFP news agency that three protesters were shot dead as they left a mosque in the town.
Hundreds have fled the border town since Friday as authorities try to crush a revolt against the government.
Across Syria, more than 700 people have died in more than two months of protests against President Bashar al-Assad's regime, activists say.
'Indiscriminate shelling'
The government says it is pursuing "armed terrorist gangs", which it blames for the deaths of soldiers, security service personnel and police officers.
However, reports from Syria are hard to verify independently as foreign journalists are not allowed into the country.
In Tell Kalakh on Sunday, activists said two women and five men were killed by the military during "indiscriminate shelling of four districts in the town".
At a nearby border crossing with Lebanon, a woman fleeing the violence was killed and five people injured, after gunfire from the Syrian side, Lebanese border officials told AFP.
The incident reportedly took place at al-Boqayah crossing, near the north Lebanon town of Wadi Khaled.
The Syrian government offered to launch a dialogue with the opposition on Sunday, after reportedly freeing several dissidents who had been held in connection with the unrest.
But the dialogue was rejected by the Local Coordination Committees, who said the government must stop shooting protesters first, Reuters news agency reported.
Elsewhere on Sunday, there were clashes at the borders with Syria, the Palestinian territories and Lebanon, with Israeli forces opening fire on groups of protesters.
In one incident, thousands of Palestinian supporters from Syria entered the Golan Heights, Israel says.