Israel: One killed as lorry ploughs down Tel Aviv road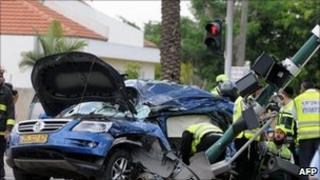 Israeli police have arrested the Israeli Arab driver of a lorry which crashed down a busy street in Tel Aviv, killing one person and injuring 10.
Witnesses said the man's lorry ploughed into traffic and pedestrians shortly after morning rush hour.
Police are investigating whether the driver acted deliberately.
This comes as Palestinians mark the Nakba, or catastrophe, when hundreds of thousands of people lost their homes after Israel was founded in 1948.
"We heard terrible slamming behind us in the car - boom, and another boom and another boom - until it reached us, and we simply flew up in the air," one witness told Army Radio.
"He went on and crashed into a bus. He got out and began to go crazy, throwing things at people," the man said.
Police spokesman Micky Rosenfeld said the lorry driver was a 22-year-old resident of the Arab village of Kafr Qassem in central Israel, Reuters news agency reported.
Clashes
Security has been tightened across Israel for the Nakba, especially in Jerusalem and areas of the country where a large percentage of the population are Arab Israelis.
Palestinians living in Israel are known as Arab Israelis.
Tensions have been high in occupied East Jerusalem since a Palestinian teenager died on Saturday after allegedly being shot by a rubber bullet in clashes with Israeli security forces.
In Ramallah, on the West Bank near East Jerusalem, Palestinians threw stones at Israeli security forces who fired tear gas and rubber bullets.