Legal battle over an abandoned Palestinian village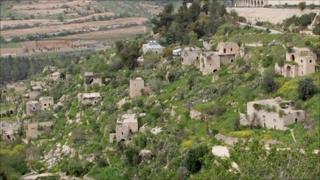 Within view of one of central Jerusalem's newest landmarks, a white, harp-shaped suspension bridge, there is a stark reminder of the city's past.
The shells of dozens of homes, scattered across a verdant valley to the west, are all that remains of the Palestinian village of Lifta.
Its 3,000 residents were forced out or fled in fighting that erupted before the creation of Israel in 1948, which Palestinians view as the "nakba" or catastrophe. They were not allowed to move back.
Now former inhabitants are fighting a legal battle to stop plans to turn the abandoned Palestinian village into a luxury housing project.
Yacoub Odeh, a Palestinian activist who lives in East Jerusalem, has vivid recollections of his idyllic boyhood in Lifta and takes tour groups to visit it. He points out the old mosque, olive press and courtyard which were central to traditional community life.
"I was born in Lifta in 1940, so I was eight-years-old when we went, but I will never forget. This is my history and all my feelings," he says.
"I remember when I was small, playing in the spring and the gardens, gathering up all the natural plants. I remember my mother preparing delicious bread with olive oil and thyme."
"The village was like one family. At harvest time or if you were doing renovations, all the youth would volunteer to help. Until now, if a Lifta person dies, all of us will go to the funeral."
Unique case
Lifta's inhabitants were among an estimated 700,000 Palestinians who fled their homes during Israel's war of independence.
While some former Palestinian towns and villages in what is now Israel have been destroyed, redeveloped or taken over, Lifta is empty and largely intact.
The houses are overgrown with wildflowers and grasses and graffiti is scrawled on their walls but in many, the attractive mosaic flooring remains.
Although the area is surrounded by motorways and construction work is taking place in the hillside to build a tunnel for the city's new light railway line, it is a serene location.
"It is a beautiful place. It breaks my heart that some day this may just be a memory," says Zeina Abdullah, a woman in her 20s, whose parents both came from Lifta.
She recently looked around the village for the first time on a tour led by Mr Odeh.
"If this disappears then the generations to come may never be able to distinguish what was there for us as Palestinians in Jerusalem," she adds.
Legal dispute
The Israel Land Authority, now the legal owner of the site, wants to sell plots to developers so they can build new upmarket houses, making use of existing buildings.
It is an idea that has been approved by the Jerusalem municipality. In city hall there is a model of the proposed project.
"The plan is to restore the remaining, standing, old buildings. They will be fully conserved," says deputy mayor, Naomi Tsur. "The art of developing such a village is in the interface between the old and new elements."
Officials point out that the area in question is not close to the occupied territories, that there is no dispute that the village is inside Israel.
"At some point in the Middle East, we're going to have to accept that some [people] are here and some are there and we can't all dream of going back to where we were before because things have moved on," says Ms Tsur.
In Israel, it is also widely felt that allowing even a token number of Palestinians to return to the land they left in 1948, as a goodwill gesture, would set a dangerous precedent.
There is fear that the return of refugees would ultimately undermine Israel as a Jewish state.
Contentious issues
A legal petition is being brought by Lifta families and Israeli non-governmental organisations to halt the project. They suggest the village should be preserved in its existing state as an historic site.
This month, a judge at the Jerusalem District Court asked the Land Authority to reconsider its plans. It has been given until 5 June to respond to the offer.
"Residents of Lifta are very aware that in this political situation they are not going to get back to their homes, but through all legal means they want to prevent any possibility their homes will be inhabited by other people," says lawyer, Sami Irsheid. "They think that would prevent any future solution of the refugee issue."
"The second thing is to preserve it as a site of memory. This is important to them not just as refugees or Palestinians but for people all over the world," Mr Irsheid adds.
Beneath the legal arguments, the fate of Lifta brings up some of the most contentious points in the Israeli-Palestinian conflict: the right of return and the struggle to control the historical narrative.