Dubai: 'Suicide jump' from world's tallest skyscraper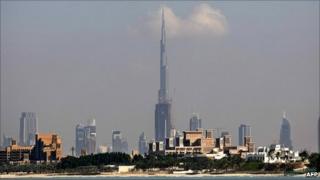 A man has committed suicide by jumping from the world's tallest skyscraper in Dubai, according to its owner.
The man, in his 20s, fell from the 147th floor of the 2,717ft (828m) Burj Khalifa, landing on a deck on the 108th floor, local media reported.
The building's owner, Emaar Properties, confirmed "an incident involving a male" took place on Tuesday morning.
It would be the first known suicide from the 160-storey landmark, which opened in January 2010.
"The concerned authorities have confirmed that it was a suicide, and we are awaiting the final report," Emaar's statement said.
Reports on the websites of the Gulf News and 7 Days newspapers said the man had jumped after a dispute with his employer.
Police statements showed that a holiday he had requested was turned down, the National reported.
The Burj Khalifa was designed by Chicago-based architects Skidmore, Owings & Merrill.
It is the tallest freestanding structure in the world, according to its developer.