Palestinian salaries unpaid as Israel withholds taxes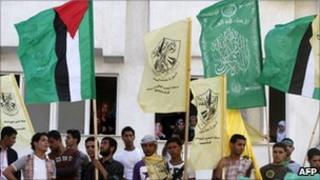 The Palestinian Authority (PA) says for the first time in four years, it has been unable to pay the salaries of tens of thousands of its staff.
It comes after Israel announced it was withholding $100m (£61m) in taxes owed to the authority.
The Israeli move was in protest at a Palestinian unity deal that brought together Hamas with its secular rival Fatah.
Israel regards Hamas as a terrorist organisation.
Each year, Israel collects hundreds of millions of dollars worth of Palestinian taxes which are then transferred to the PA.
The United Nations, as well as the United States and the European Union, have called for Israel to transfer the money.
According to the PA, 150,000 employees are unable to collect their pay cheques this month. They range from teachers to street sweepers.
A spokesman said Israel was holding Palestinians to ransom but Israel says it wants to be certain the money does not fall into the hands of Hamas.