Bahrain's king lifts state of emergency from 1 June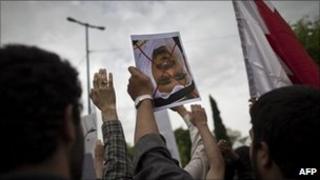 Bahrain's king has ordered the state of emergency imposed in mid-March during weeks of protests to be lifted from next month, the state news agency says.
"The state of national safety is lifted across the kingdom of Bahrain from 1 June," the agency BNA quoted the king's decree as saying.
At least 30 people have died since Bahrain's Shia majority took to the streets in February.
More than 20 activists are charged with attempting to oust the Sunni monarchy.
Emboldened by uprisings in Tunisia and Egypt, Bahrain's Shias began protesting on 14 February demanding greater freedom and rights.
Some called for the overthrow of the monarchy.
The government imposed martial law and invited troops from Sunni-ruled neighbours such as Saudi Arabia and the United Arab Emirates to help quell the unrest.
Bahrain accused Iran of fomenting the unrest - a charge Tehran denied.
King Sheikh Hamad bin Isa Al Khalifah became emir of Bahrain in 1999 upon his father's death, before turning the Gulf state from an emirate into a kingdom three years later.