Syria: Tanks 'deploy around Rastan' after protests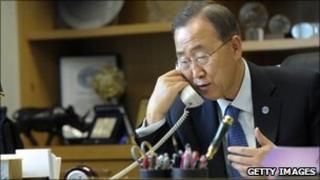 Tanks and armoured vehicles have deployed near Rastan, north of Syria's capital Damascus, witnesses say.
Earlier, thousands of people in the north took part in protests calling for greater social and political freedoms.
UN Secretary General Ban Ki-moon has called on President Bashar al-Assad to end a six-week clampdown on opposition supporters.
Some 2,843 people are confirmed as detained, although campaigners say the total could be nearer to 8,000.
They say detainees have been subjected to torture, reporting that in the western city of Zabadani alone more than 30 activists were released who had been brutally tortured - many having had their fingernails pulled out by pincers.
The US has denounced the crackdown as "barbaric".
Human rights groups say about 560 people have been killed across the country in anti-government protests.
Large numbers of people are said to have been arrested in recent days, and there are reports of police using tear gas and making arrests at Wednesday's protests.
The protests, which began on 15 March, pose the most serious challenge to four decades of rule by the Assad family in one of the Arab world's most repressive and tightly controlled countries.
Foreign journalists are barred from Syria, and reports cannot be verified.
Cities under siege
In his phone conversation with Mr Assad, Mr Ban "reiterated his calls for an immediate end to violence against and mass arrests of peaceful demonstrators in Syria, and for an independent investigation of all killings that happened during the protests", said a statement from his office.
He also "called on President Assad to immediately grant access to the United Nations in order to assess the humanitarian needs of the affected civilian population".
Earlier reports from local activists said tanks were heading for the central Syrian city of Homs after anti-government protests were held there on Tuesday night.
Activists told the BBC that security forces had fanned out inside Homs, and that army tanks were heading towards the city.
Some 1,000 people chanted slogans in support of the southern city of Deraa, where troops rounded up hundreds of men in house-to-house raids.
On Tuesday, Syrian tanks and troops reportedly surrounded the coastal city of Baniyas.
Deraa, the southern city where the protests kicked off in mid-March, has been under siege since the weekend.
On Wednesday, there were fresh reports of gunfire and mass arrests there.
The army is still not allowing anyone into the city, and supplies of food and medicine are running low, residents say.
Communication lines are still down, but electricity has been restored in most areas, they add.
On Tuesday, US state department spokesman Mark Toner said the use of tanks, arbitrary arrests and power cuts in Deraa was "quite barbaric and amounts to the collective punishment of innocent civilians".
The authorities say they have found rebel arms caches in Deraa. But the protesters insist their movement is entirely peaceful.
Despite the government crackdown, Syrians are continuing to protest in several cities and towns, including Damascus, where they appear to have come under live fire from police and plainclothes security forces.
Elsewhere in the capital, students at Damascus University staged a sit-in at the faculty of economics. They have issued a statement condemning "the massacres, killings and the arrests committed against peaceful demonstrators".
Torture allegations
Also on Tuesday, a late-night demonstration by 1,000 students at Aleppo University - in Syria's second city - was broken up by security forces using tear gas and firing live bullets, reliable sources say.
No injuries were reported, but dozens of students are being arrested, their mobile phones and laptops confiscated, the sources say.
More vigils and protests are planned in the coming days.
Amnesty International, and many of the protesters themselves, say the detainees are subjected to beatings and torture.
"The use of unwarranted lethal force, arbitrary detention and torture appear to be the desperate actions of a government that is intolerant of dissent and must be halted immediately," Amnesty's Philip Luther said.
Last week hundreds of members of Mr Assad's ruling Baath Party resigned in protest at the crackdown.
European nations have called for sanctions against the regime of President Assad.
Washington has already tightened its sanctions against senior Syrian officials.