Syria: Army in Deraa arrests 500 men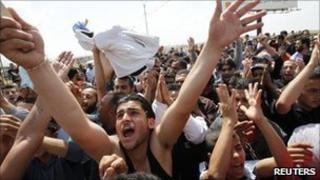 Syrian security forces killed 10 people and arrested 499 others in house-to-house raids in Deraa on Sunday, an army spokesman has said.
Residents said men aged between 15 and 40 were being arrested, handcuffed and bussed to a detention centre.
Later, police broke up a protest by a group of women in the capital Damascus.
Rights groups say 560 people have been killed across the country in protests against the repressive rule of President Bashar al-Assad.
Last week the army used tanks to take control of Deraa, the city at the heart of the unrest.
On Sunday, British Prime Minister David Cameron denounced the "disgraceful" crackdown against pro-democracy protests which began six weeks ago, inspired by the revolutions in Tunisia and Egypt.
The US last week blocked the assets of a number of top Syrian officials as well as Mr Assad's brother, Maher, who commands the Syrian army's feared Fourth Division.
'Hooded detainees'
Residents of Deraa told Reuters news agency they had seen packed busloads of handcuffed and hooded young men being taken in the direction of a large detention centre in the city run by the security services.
"They are arresting all males above 15 years [old]. They only have old security tactics and they are acting on revenge," said a prominent lawyer in Deraa who did not want to be identified further.
The raids come after the army seized control of Deraa's Omari mosque, which had become a centre for anti-government protests in the city.
State news agency Sana said on Monday that army units had tracked down "terrorist groups", killing 10 members and arresting 499 of them. Two members of the security forces were killed in the raids, Sana said.
More than 70 people have been killed in Deraa since Friday, according to reports from residents and rights groups.
Despite the use of force Syrians have kept up protests in several cities, including Damascus, where police dispersed a protest on Monday by dozens of women calling for an end to the military action in Deraa.
One woman told AFP some of the women had been beaten and that a female journalist was arrested after she argued with security officers who took her camera.
A BBC reporter in Syria saw police break up another small protest outside a mosque in the Harasta suburb, some 6km from the city centre.
The reporter said the police, some armed or in plain clothes, entered the mosque at one point and broke up the crowds when they reformed in the surrounding streets.
A day earlier, thousands marched in the central city of Homs, and in Rastan, to the north, where funerals were held for 17 men killed during Friday protests.
In the Kurdish village of Karbawi, near Qamishli in the country's north, some 2,000 people attended the funeral of 20-year-old conscript Ahmad Fanar Mustafa. His father has accused security forces of killing him for refusing to take part in the repression.
Last week hundreds of members of Mr Assad's ruling Baath Party resigned over the crackdown.
Mr Assad's government blames militants and "external forces" for the unrest, which it says have left nearly 80 security personnel dead.
On Monday authorities set a deadline of 15 May for people who had committed "unlawful acts" to give themselves up, the AFP news agency reported.
The protests, which began on 15 March, pose the most serious challenge to four decades of rule by the Assad family in one of the Arab world's most repressive and tightly-controlled countries.
Meanwhile, Al-Jazeera has said it is deeply concerned about one if its journalists, Dorothy Parvez, who has been missing since she arrived in Syria on Friday.
Foreign journalists are not being allowed into the country, and the exact picture of what is happening remains unclear.