Syria: 'Renewed shooting' in Deraa and other cities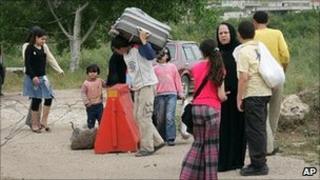 Further shooting has been reported in several parts of Syria, including the southern city of Deraa which has been a focal point of unrest.
In neighbouring Lebanon, officials said hundreds of Syrians have fled across the border after shooting in one town.
Human rights activists in Syria say at least 500 people have died in six weeks of protests against the government of President Bashar al-Assad.
Protesters are calling for Friday to be a "Day of Rage" across the country.
They want to step up protests in support of Deraa, where a military crackdown since Monday has reportedly left more than 40 people dead.
Deraa is where the revolt against President Assad began six weeks ago. Defiance has continued there despite military intervention.
On Thursday, witnesses said that water, communications and power in Deraa had been cut off.
Other reports said tanks rolled into Latakia, north of Damascus, on Wednesday night and security forces fired on pro-democracy demonstrators.
The mayor of the Lebanese border town of al-Buqaya told Reuters that more than 1,000 people - mostly women and children - had crossed over from the town of Tell Kalakh.
"They are leaving their houses and their men. The women have come with their children," said Mahmood Khazaal.
"We heard shooting since 6.15 (1515 GMT Wednesday) and that is when they started fleeing."
He said Lebanese security forces were helping Syrian families to cross over.
Foreign journalists have been banned from Syria and reports from inside the country are difficult to verify.
Earlier, 200 members of Syria's ruling Baath party resigned after issuing an angry public statement denouncing the repression.
The resignations - mostly from around Deraa - follow those of 30 Baath officials from the coastal city of Baniyas, north-west of Damascus.
The deaths of protesters have brought strong international condemnation, but Syrian officials remain defiant.
"The authorities are determined to restore security, stability and peace to the citizens," Information Minister Adnan Mahmud told AFP news agency.
"In Deraa, the army intervened at the request of the population to restore security," he added.